We've Fallen In Love With SideDoor In CDM – Look For The Red Key.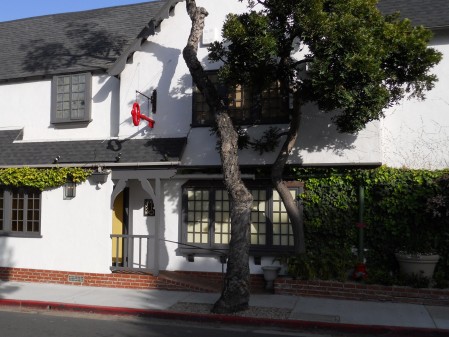 Have you been to SideDoor yet?  It's an English-style Gastropub in Corona Del Mar off Poppy and PCH.  You may not know about SideDoor until now, but if local you're surely aware of the Five Crowns Restaurant.  It's been in CDM for over 40 years.  Last year Five Crowns carved out a space to create SideDoor, which officially opened in November 2009.  It's absolutely brilliant!  Just look for the red key hanging on the outside to find SideDoor.
We loved everything about this place and plan to go back many times.  It's comfortable and stylish, serves amazing food, fun drink options and the service is well above average.  You'll certainly have questions about the Cheese and Charcuterie and the servers will be able to answer them — We especially recommend Ben who is quite knowledgeable and cute.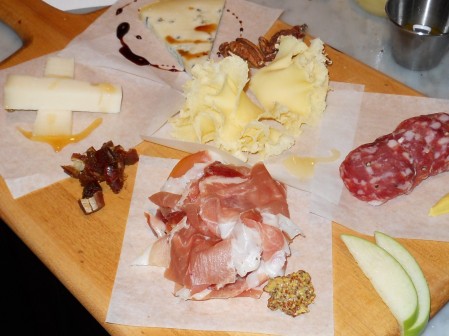 In addition to the Cheese (Cow, Sheep, Goat & Bleu) and Charcuterie (Proscuitto, Salame & Bresaola) options, SideDoor's Menu is impressive.  Our goal is to try everything.
We started with a Flight of Draught Beer — Favorite of all (this visit) was the Allagash Curieaux.  And we tried the Country Duck Pate, StilCheddar Mac'n Cheese and Fish'n Chips.  Also pictured is our neighbor's Chicken Pot Pie.  We didn't have it, but did try their Smokey Blue Cheese Potato Chips (not pictured) and really liked 'em.  Our pub table was a large shared one with nice, fun people, which added to the experience.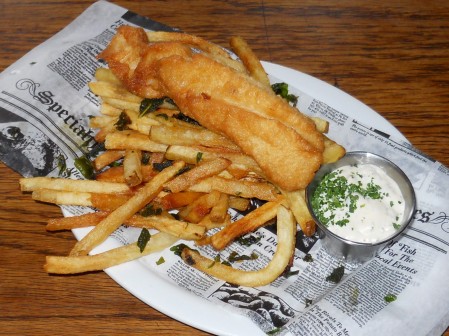 The Fish'n Chips are excellent, which is important for an English-style Gastropub.  Having been to England three times and dined in several authentic English Pubs, we think SideDoor holds up in many ways — We appreciate its lighting, colors, ambiance, feel, comfort and decor.
Pictured directly above is the GimmeMores, SideDoor's version of S'Mores.  They're assembled with homemade Marshmallows, rustic Bread and pressed Chocolate, similar to a Panini.  They're different and surprisingly good.
SideDoor is long and somewhat narrow inside with several cozy dining spots — Tall tables, cubby holes next to fireplaces, couch benches, large chairs, or belly up at the bar.  It's an extraordinary place I'd like to frequent and look forward to going back soon.  It's bloody awesome!