What Came First, The Cow Or The Milk? Facebook Came After The Friends.
Obviously the cow came before the Milk, as I Need Text Company ("INTC") came before Nibbles of Tidbits.  Freelance Writing Services continue to be available by way of INTC, as Nibbles of Tidbits thrives.  A Nibbles of Tidbits Facebook Page was created to bifurcate our presence there — If you "Like" Nibbles of Tidbits fka "Fan" (A FB name change: It's less committal, 😉 ), I may Like you too.  I get the change, I'm not a fan of many things, but like a lot.  I'd be more apt to like YOU.  Aside from all that, inquire within regarding professional writing services.
Maggie likes Nibbles of Tidbits.
In contrast to our new-fangled fork on Facebook, the Vintage Milk Truck serves to connect the post title and highlight a historical relationship with Milk.  All are presented to establish capability and experience, with more to be learned at INTC — And to celebrate creative freedom here on Nibbles of Tidbits.  It's a balanced association, amply liberated for your benefit too.  Though I sometimes resemble Mr. Bill, the words are King.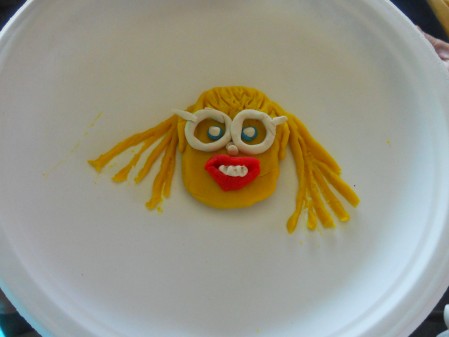 My Play-Doh face, modeled by Chef Lexi the day all photos were taken.