Why Not Make A Homemade Slider Smorgasbord?
Instead of just one Burger, why not make homemade Sliders for fun and variety — Pictured (L-R) we made a Blue Cheese Burger with Tomatoes, Lettuce and Pickles, a Bacon Cheddar Burger, and a Jalapeno Jack Burger with Tomatoes and Arugula.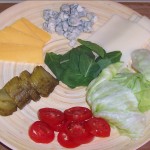 We added a little Worcestershire Sauce, Salt and freshly ground Pepper to the small Burger Patties, buttered and toasted the mini Buns/Rolls and laid out all the fixins. 
We fried these Burgers in a pan (after we brought home the Bacon) and topped with Cheese after turning — Then transferred all to Buns with their corresponding counterparts.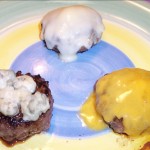 "Shelly's Sliders" turned out pretty good.  It was fun eating a variety of Burgers and deciphering what tastes best.  We've got some great ideas for our next Slider Smorgasbord and would have made them here, but didn't have Chipotles, Pineapples, or Chili on hand.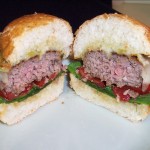 If local and don't feel like making your own Sliders, check out the restaurants and photos linked below.
3-Thirty-3 Sliders: http://www.ineedtext.com/FoodBlog/?p=1939
Charlie Palmer's Sliders: http://www.ineedtext.com/FoodBlog/?p=1036
More INFO: http://en.wikipedia.org/wiki/Hamburger