Will The Real Fancy Smancy Steakhouse Burger Step Right Up?!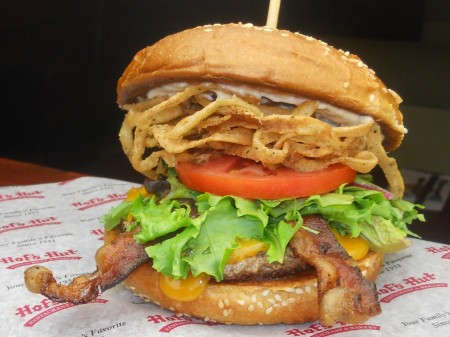 It's almost time for the Fancy Smancy Steakhouse Burger to make an appearance at Hof's Hut Restaurant & Bakery.  In celebration of their 60th Anniversary, Hof's will be featuring the pictured Burger during the month of September.  It won a Burger Contest and I created it, as previously reported here.  I was elated to learn the news.  In addition, I won a BBQ and $100 Gift Card.  More will soon be reported about the Fancy Smancy Steakhouse Burger coming your way — Stay tuned to learn about its ingredients, the Burger's photo shoot, the BBQ to be delivered next week, Hof's Bakery and the amazing taste of the Burger.  It really is a winner.
Thanks to all the nice people at Hof's.