Nibbles of Tidbits has a Guest Blogger, Bonnie who dines out a lot.  This is her first report about Sol Cocina in Newport Beach.  She offers a unique perspective on a dining experience — Three Interior Designers walk into a restaurant for a birthday celebration and . . .
Greetings and thanks to Nibbles of Tidbits for allowing me to "Guest Blog" today. By way of introduction, I'm an Interior Designer, but have come on board the foodie train since my good friend Shelly started this blog — I will approach this review from that point of view.
Today I am writing after a memorable visit to the brand new SOL Cocina in Newport Beach. First off, you can't come here without mentioning something about the beautiful view, as this restaurant sits smack on top of Newport Bay. Here, virtually every seat in the house has a stunning water view to begin the dining experience.
Although we didn't make it to the bar, we began with the House Specialty Margaritas, which are essentially Cadillac Margaritas but obviously made from truly fresh ingredients, just like our server promised they would be. We also tried the Pineapple Serrano Margarita and my favorite, a Tequila Mojito that was to die for! We then started our feast with Naked Guacamole and Toritos. Again, the freshness of the ingredients was what struck us most, but the flavors were memorable too. And ditto for the Black Bean Dip.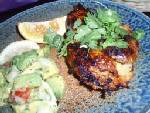 Continuing on to our main course, I opted for the Lamb Taco. I am a firm lover of Lamb, and this dish did not disappoint. We also tried the Chipotle Chicken (pictured), which was awesome and worth going back for. The only thing we were a bit perplexed about was that we were served a leg and thigh, rather than a breast for this entree. Perhaps I will ask about this next time. We also indulged in one of SOL's Street Tacos, which were not only delicious, but at $6.00 for two, proved to be one great bargain. Indeed, the prices at this decidedly upscale restaurant were surprisingly affordable, with the other stand out being the Lamb Taco at $5.25. It's definitely worth it!
With our birthday celebration coming to an end, we were delighted with a surprise – a complimentary Nacho Desert, which was anything but ordinary. Here, the Desert Nachos consist of Flour Tortillas that are deep fried, sprinkled with Cinnamon, drizzled with Chocolate and normally topped with Whipped Cream, which we had with ice cream. Ole! It made for a sweet and savory desert.
While the food was a definite stand out at this new restaurant, from an Interior Designer's point of view SOL Cocina is in need of some basic improvement. We could not help but notice that the décor had been completely redone from when it was Mama Gina's and is quite impressive, but someone completely dropped the ball when it came to the acoustics. Indeed, the restaurant was not even completely full at 8:30 on a Wednesday night when we noticed that it was awfully loud in there.
How about adding some windows that open up to let out some of the noise? This is just one suggestion from us three Interior Designers, who can appreciate the tasteful decor but cringe when we think about going back to a restaurant where the noise level is annoying. Someone definitely needs to take care of this before SOL can, and should — become Newport's newest spot for contemporary, Baja-style dining.
Sol Cocina DIRECT (251 PCH, former Mamma Gina's location): http://www.solcocina.com/
There are way better photos than my Guest Blogger took linked directly below.  J.K., but it's true, although I greatly appreciate the efforts nonetheless. http://ocmexfood.blogspot.com/2009/06/sol-cocina.html
Bonnie Joy Designs: http://www.bonniejoydesigns.com/