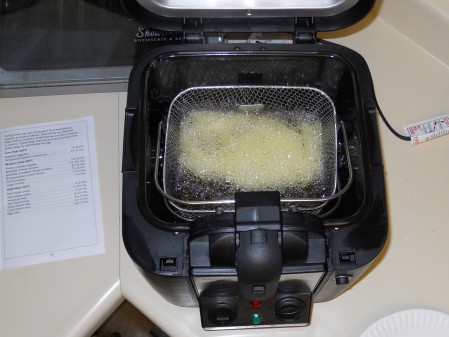 For Christmas I received the Waring Pro Cool Touch Deep Fryer.  I didn't really need one, as it means I'll be eating more fried food, but what the heck — It'll be fun to have when I need it.  Since counter space is rationed in an apartment, it will have to be stored away.  And before putting it out of sight, which usually turns into out of mind, I fried up a storm.
My first frying experience started with the use of (3) different Oils — I purchased a large bottle of Canola Oil thinking it would be enough to fill the fryer to the maximum level, but it didn't even make it to the minimum level.  I then added what was left of another Canola Oil bottle, and then what was left of some Peanut Oil and still didn't have enough Oil to get frying.  Yikes, all I had left was Olive Oil.  I had to add it, since I didn't want to run to the store and had already prepared a Donut Batter, as Donuts were at the top of the frying list.  I was afraid the Olive Oil would adversely flavor the Donuts, but am happy to report that the ratio used wasn't noticeable at all.  Whew!
I made an Easy Donut Hole Recipe that I found online.  I highly recommend the recipe for its flavor, but the consistency of my batter was such that I couldn't form the Donuts into holes, nor anything else for that matter.  It was too runny to make Donut Holes and too thick for Funnel Cake.  Although the final product didn't resemble either, it tasted great — Just like a Churro or Funnel Cake.  But for the life of me, I wasn't able to make a Donut that didn't look like an alien or internal or sexual organ, as pictured. 🙂 Fortunately the Powdered Sugar slightly masked the crazy shapes.
I then went on to make French Fries, Croutons, Blue Corn Tortilla Chips and Onion Rings.  All turned out well, except for the French Fries.  I used the wrong type of Potato, a Long White, whereas I should have used a Russet.  Another mistake was that the Potato was chilled, since I'd pulled it out of the fridge.  Not good — The nicely cut French Fries had so much potential, but didn't crisp up. 🙁
The Onion Rings tasted great, but were a bit greasy, as you can see in the photo (below).  The batter was a simple combination of Flour, Beer and Salt, which I'd use again.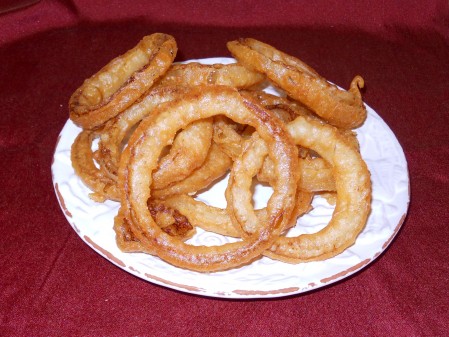 Overall, the addition of Olive Oil to the mix didn't negatively impact the flavor of the sweet nor savory fried items, but to be on the safe side, I'd recommend that you be sure to have (2) large bottles of the same Oil on-hand before getting started.  It takes a lot of Oil to fry.  And once you've poured it all into the fryer, you might as well get use out of it.  That's what I'm doing until I'm all fried out and ready to store it away.  And I'm now ready for that, since my apartment currently smells like a fast food joint, an unfavorable side effect.  It's time to clean things up, light a few aroma candles, open the windows, turn on the fans and have a Salad.
Note:  I'm happy with the quality of this product.  The Waring Pro Cool Touch Deep Fryer (WPF100B Series) appears to work well and many of its parts are dishwasher safe.