Quick Dip — Is that an oxymoron?  Chocolate was melted in the microwave and Oreo Cookies were being dipped 5 minutes from commencement.  And Mickey Moused, because Chocolate wasn't tempered, nor mixed with wax, cream or butter.  Instead, Milk and White Chocolate Chips were separately melted at 50% power, in approx. 50 second intervals and stirred in between.  It was fast and turned out good, but not as great as those you buy, or the ones my friend Loretta makes.  I don't think she'd approve of these, but we're always experimenting.
I was most proud of the design I created on the White Chocolate Dipped Oreo above.
Dippin' leftover Oreos in Chocolate, from the Cookies and Cream Cheesecakes we made.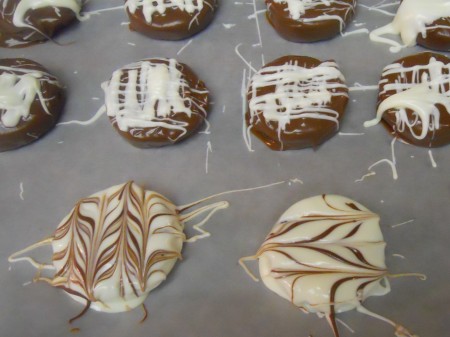 Haphazard about thickness and decoration, but wanted to make 'em quick.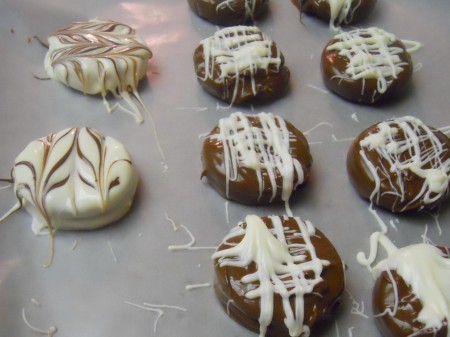 All was made in about 10 minutes, which is obvious looking at some.  Next time I'll pipe the Chocolate through a baggie tip rather than use a spoon — Better design control, less sloppy.
Funny thing, growing up I wasn't an Oreo Cookie fan and when I did have them, I'd eat the outsides and throw away the middle.  I hadn't purchased them in years and this time didn't need to ditch the middle.  Is there less than there used to be, like too many things?