A Sampling Of Tacos From Taco Mesa Restaurant.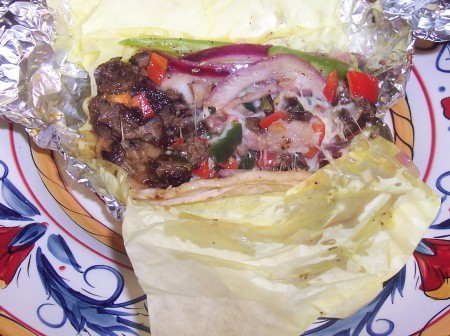 It appears that many love Taco Mesa Restaurant — That's what I've heard and it always seems to have a packed patio of diners.  Today we tried a sampling of a few Tacos.  From top to bottom, left to right, we enjoyed their Taco Alambre, Salmon Taco, Al Pastor Taco, Potato Chorizo and Egg Taco, and their Blackened Chicken Breast New Wave Taco.
We like that Breakfast is served all day and that we're able to have a Potato Chorizo and Egg Taco at night.  All Tacos were good, but we prefer the regular Tacos to the New Wave Tacos.  The New Wave Tacos are served in blue and red Tortillas, which is fine, but they fell apart more easily than their standard Tacos.  We look forward to going back to try the Carnitas Pibil, Carne Asada and Tacos Fritos, since the prices aren't bad — We'll report about those Tacos next time.
Taco Mesa MENU & INFO: http://www.tacomesa.net/