Valley View Casino Buffet In San Diego County.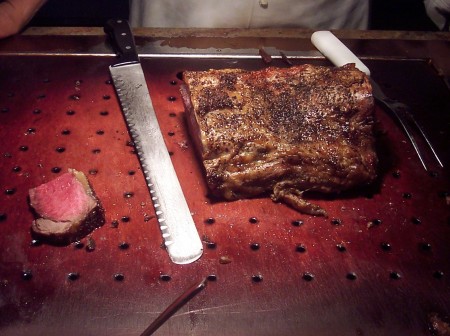 Do you like a good Buffet?  If you join the Player's Club at Valley View Casino, you'll receive a FREE Lobster Buffet.  We joined the Player's Club today and enjoyed a complimentary Lunch Buffet.  Steamed Maine Lobster and Alaskan King Crab is featured on the Dinner Buffet only, and Carved New York Strip (above) is featured during lunch.  Although I would have loved the King Crab Legs, there's 275 items to choose from otherwise — We captured a few.
The service is good and we were so impressed with this carved Watermelon — It's the best I've ever seen.  I can't quite figure out where to start to accomplish this.
Buffets are fun, but sometimes the options can be paralyzing — One can only eat so much.  It's best to have a plan for maximum satisfaction and least waste.  We started with a Salad plate, then an Entree plate, followed by a Dessert plate or two.
TIP:  To avoid a long line, it's best to arrive at this Buffet right when it opens.  They added more seating, but it gets packed.
Valley View Casino Buffet INFO
MORE Casino Buffets reviewed by Nibbles of Tidbits:  Agua Caliente Casino Buffet in Rancho Mirage