Always A Food Angle To A Stunning De Place, De Place: The Arboretum.
Finally inside The Arboretum, our Los Angeles Fantasy Island this day — Ever been there?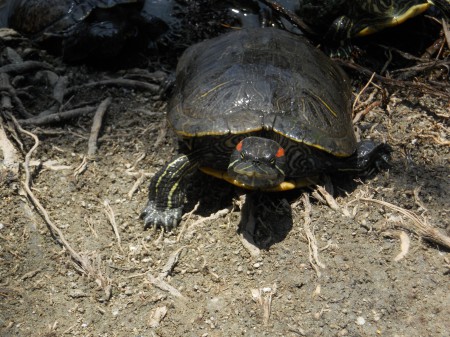 We fed turtles (and crazy fish) Cheerios left on the dirt by others — They loved 'em.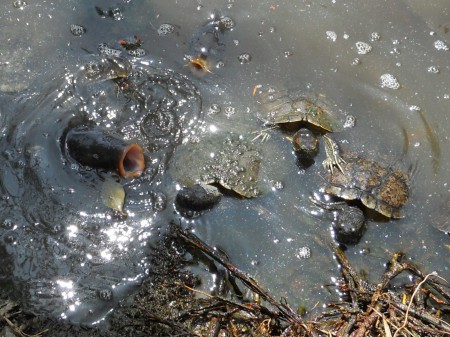 The turtles didn't have much of a chance for a Cheerio with the big-mouthed fish in the water.
And birds stood by scouting for plentiful small fish (and whatever else).
Across the lagoon is the bell tower where Tattoo famously exclaimed "De Plane, De Plane."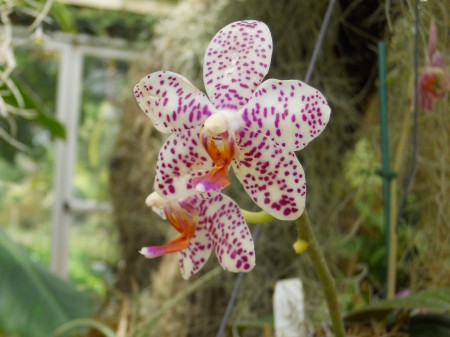 There's beauty and wonder at The Arboretum — It's an exploratory way to spend the day.
Bring a camera, cold beverage and good walking shoes to be prepared to see all comfortably.
Food Garden Coming Soon — For those who don't eat insects, live fish and dirty Cheerios.
A peek inside the old Santa Anita Depot — In photo vintage cooking utensils weave between reflections of today, behind me and up close, as we reflect about life yesterday.  See it?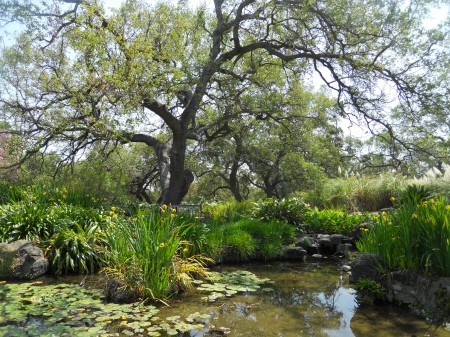 All this splendor is there for YOU to see.
Below is the Queen Anne Cottage seen on Fantasy Island.  Do you remember it?  Some outdoor scenes were filmed around the Los Angeles County Arboretum & Botanic Garden.
It sure was peaceful lounging on the Queen Anne Cottage porch.
Already an adventurous day, before heading to Santa Anita Park nearby for its last weekend.