Another Hamburger At Fashion Island: Café Beau Soleil And Crêperie.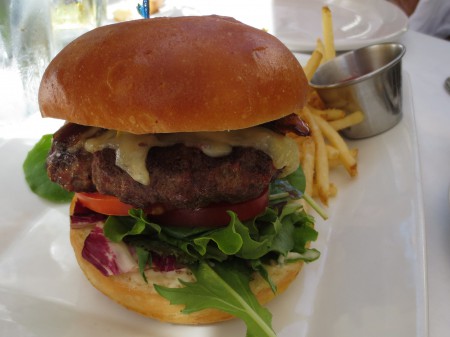 We're forever in search of the "this is the best one yet" Hamburger and heard good things about the Burgers at Café Beau Soleil and Crêperie at Fashion Island — So we went.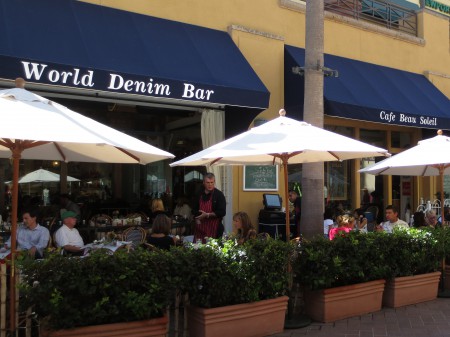 Its outdoor patio is across from Urban Outfitters.
Café Beau Soleil And Crêperie is so French — Even our waiter was French and looked familiar.  It couldn't be that I remembered him from France, since it's been more than ten years since I've been there.  No, I later remembered that he waited on me at Pescadou Bistro one time, another French restaurant in Newport Beach where you'll find him working at night.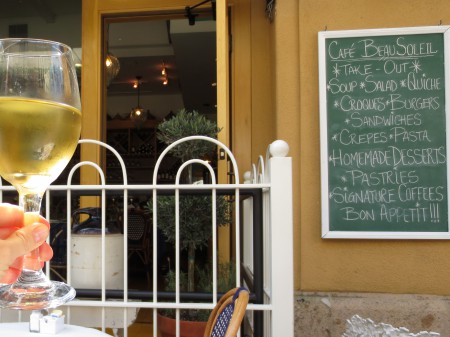 Toast with a Glass of Wine, but not with the one circled below — It's 50% Chardonnay and 50% Pinot Grigio, which probably doesn't sound all that great in the first place, but since I like Chardonnay and my Mom (and Hamburger sharing partner) likes Pinot Grigio, we gave it a try.
And it might be the worst Wine I'd ever had — Not sure what's up with it, but be warned.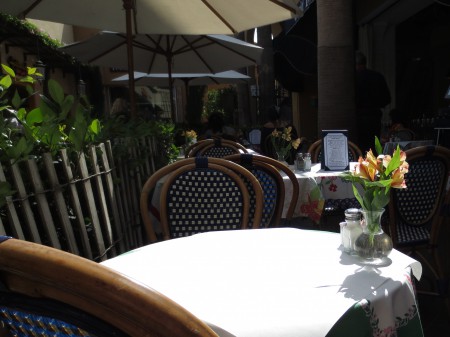 Other than that, all was pleasant at the French Café on a beautiful day.
And we liked the Hamburger — It ranks high on our informal best Hamburger list.
We had the Le Burger with Caramelized Onions and Gruyere Cheese on a Brioche Bun and would get it again, with sure to be a better French Wine.  Cheers to many other things, including the bitchen bracelet my Mom bought at Uno de 50 shortly before our relaxing lunch.
Where should we go next sweet Mom?  Cheers to you!