Banana Split Three Layer Cake Challenge.
Our Banana Split Cake started out as a fun idea, but unfortunately it didn't quite cross the finish line.  Good thing we're testing out recipes before entering 'em into the 2010 Orange County Fair Culinary Arts Competition — This one certainly wouldn't win a ribbon.  The concept is entertaining and it tasted really good, but one can't submit a Cake looking like this. 🙂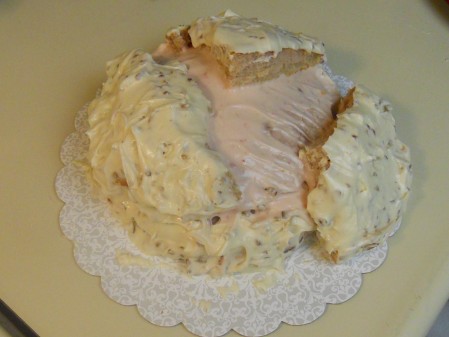 With ripening Bananas and Strawberries on hand and the recent receipt of Southern Living Classic Southern Desserts Cookbook, we created a Banana Split Cake.  We started with a prepared White Cake Mix evenly divided into 3 round baking pans — Then mashed a Banana, pureed a few Strawberries and got out the Hershey's Chocolate Syrup.  As shown below, we added each respectively to the divided mix. 
We baked the Cakes, then set them aside to cool completely — We did get that part right, although it may not look that way.  We made an amazing Cream Cheese Frosting from the Southern Living Classic Southern Desserts Cookbook.  It's called Nutty Cream Cheese Frosting (p. 37).  Before adding the Pecans that are called for in the recipe, we reserved and divided a portion of the Frosting to mix pureed Strawberry into one and Chocolate Syrup into the other, and then added Pecans to the remainder and chilled all in the fridge.
To build our Banana Split Cake, start with Chocolate Cake on the bottom, then add a layer of Chocolate Cream Cheese Frosting, followed by Banana Cake, Strawberry Cream Cheese Frosting, and ending with Strawberry Cake on top.  We then smothered the assembled Cake with Nutty Cream Cheese Frosting.  It held together at first, but then you see what happened.  We ultimately separated the layers and frosted each separately with the Nutty Cream Cheese Frosting.  Office co-workers usually don't care what it looks like.
Next time we'll add less Strawberry puree and Chocolate Syrup to the Frosting and less Frosting in between the layers.  We might also want to chill the Frosting a little longer or make more Cake, so the layers aren't as thin.  Perhaps we'll add sliced Strawberries and/or Bananas in between the layers to avoid sliding Cakes.  Again, it tasted pretty good, therefore it's worth another try.
Note: So far we like what we see in Classic Southern Desserts Cookbook by Southern Living and look forward to making the recipes we've tabbed in it.