Charlie Palmer at Bloomingdale's.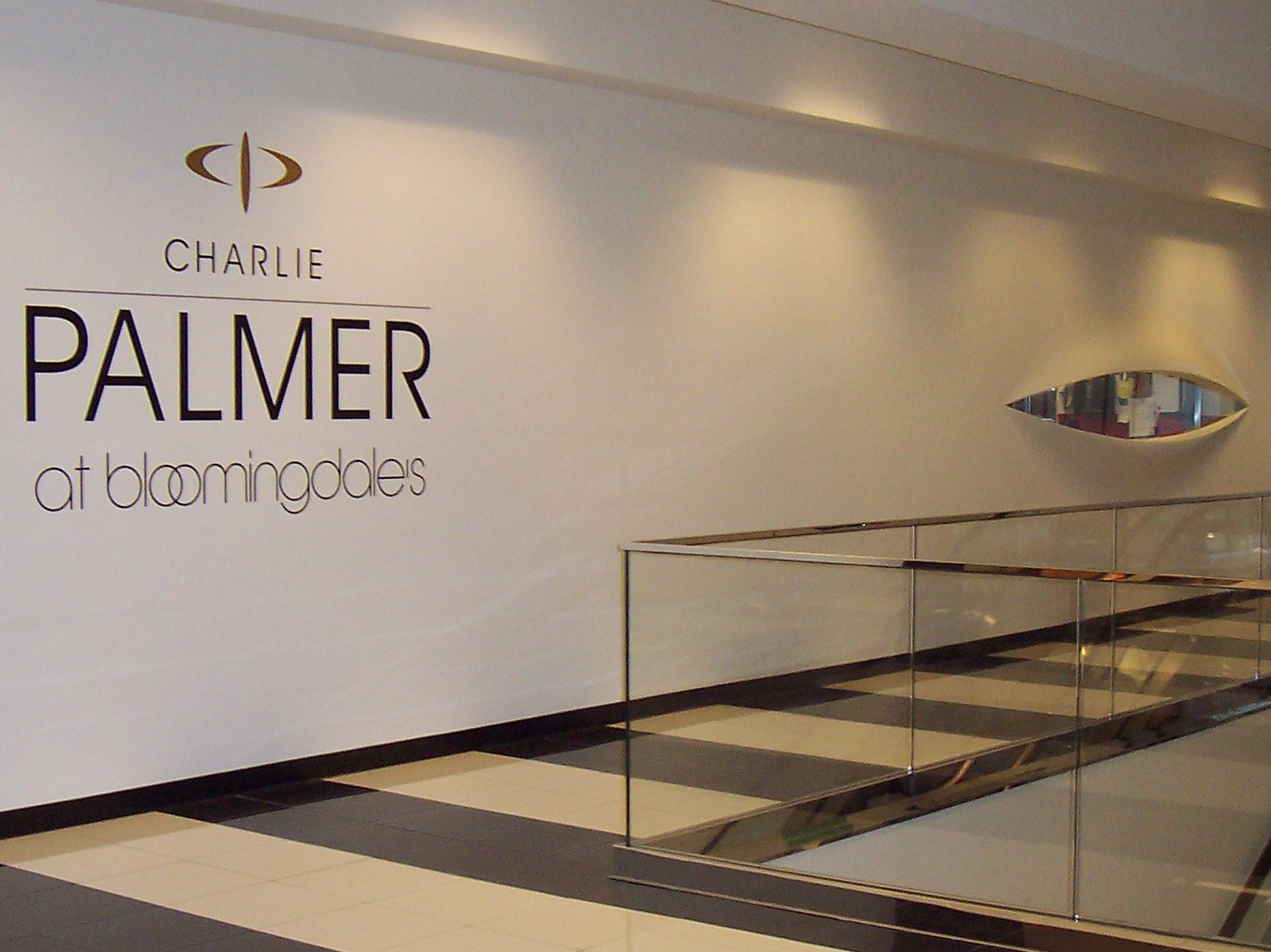 Dare I say one of the best meals I've ever had?  I dare.  And the service was friendly (not stuffy) and attentive.  I fell in love with ALL aspects of the place.  Each dish was a stunning treat, plus we got to tour the kitchen and the wine tasting area downstairs.  It was more fun than Disneyland.
Thank you for the amazing food and the opportunity to look around.  As of this date, Charlie Palmer at Bloomingdale's has been open one week.  My experience tells me that it deserves to have many years of success here.
If locating the restaurant through Bloomingdale's, you'll be struck by the eye window looking into the kitchen.  I was amazed.  It's one of the coolest things I've seen.  The pictures below are taken of the restaurant entrance on the west side of Bloomingdale's.  The bar entrance is on the east side — Now it's starting to sound like Manhattan Charlie.
I really wanted to take pictures of our meal, but didn't ask permission.  I especially wish I had a photo of the Foie Gras, since it looked like a piece of art.  It tasted incredible too.  I was sliding down my comfortable chair it was so good. 
Here's what we had, as described on the menu:
* Seared Hudson Valley Foie Gras, Apricot Tarte Tatin, Carmelized Apricot
* Aged NY Sirloin, Chipotle Butter, Shallot Confit
* Prime Flatiron Steak, Sake-Glazed Turnip, Ginger Jus
* Potato Gratin, Aged Cheddar
* Root Vegetables, Marjoram Essence 
* Farro Risotto, Morels
All dishes were truly superb.  And since my friend blabbed about my birthday, they served a fun, unique Cookie and Jelly assortment.  After that, I was glad that she did. 
I should also mention that the Root Vegetables were also complimentary, plus they served a Sea Urchin Mousse with Caviar and Crabmeat.  We greatly appreciated the restaurant's generosity and excellent hospitality.  Everything was top notch.
I couldn't think of a better way to spend my birthday and I'd love to eat there again.  Thanks for coming to California Charlie.
PLUS:  They sell good bottles of wine TO GO at comparable retail prices.  And their Wine List is a computer, you'll see.  I had a fabulous Australian Syrah recommended by the nice Sommelier.
Related Links:
http://www.charliepalmer.com/bloomingdale/home.html
http://www.restaurantica.com/blog/Shelly-Borrell–A-Food-Writer-in-the-Making/124/