Chipotle's Sofritas: Shredded Tofu Braised With Chilis And Spices.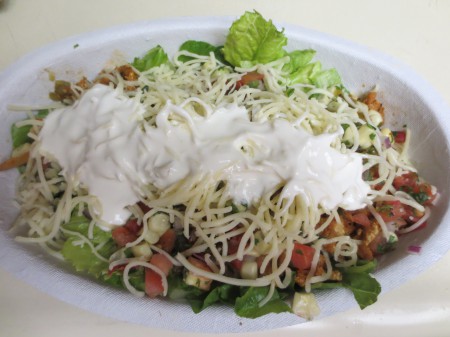 You can't see the Sofritas under the tasty selection of toppings on my Chipotle Salad, and don't be afraid when you do — Chipotle's Sofritas are made with shredded Tofu that's braised with Chipotle Chilis, roasted Poblanos and aromatic Spices.  Its spiciness makes it desirable.
Sofritas is an option for vegans or anyone who likes its flavor — We eat it all.
It looks like this (below) and probably better in person. 😉
Chipotle Mexican Grill always seems to be busy, but the line usually moves along quickly.
You have to slow the employees down to get exactly what you want, but it's okay, I guess.
They're making a Burrito for another and a Burrito Bowl and Crispy Tacos with Sofritas for us.
Guacamole costs extra — I'm going to want a BIG scoop, thank you.
I love Chipotle's delicate, crispy Taco Shells, but one must eat 'em fast for optimum crunch.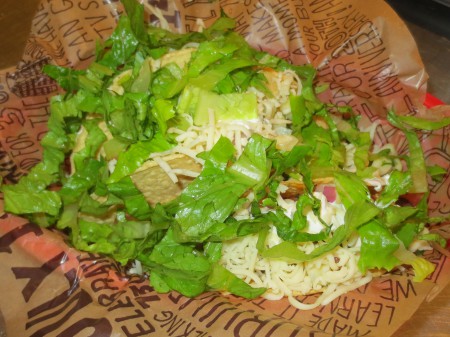 At times I could imagine I was eating Ground Beef Tacos instead of Tofu ones.
Though Sofritas is good, there's a Barbacoa mountain to climb — I LOVE it, as evidenced here.
Chipotle's MENU has something for all — It's easy to have a good meal there.