Chocolate Covered Bacon At The OC Fair.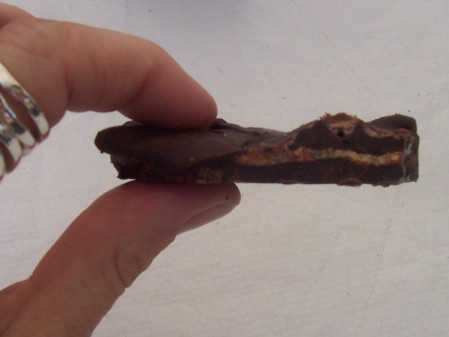 Each year the Orange County Fair serves up a new weird food item (E.g., Fried Twinkies, Fried White Castle Burgers, etc.), and this year it's Chocolate Covered Bacon.   We've tried 'em all, thus had to sample the Bacon.  As you can see (above), it's covered in thick Chocolate — And it's kinda difficult to bite into, since it's served from the freezer or fridge.
Overall, the flavor isn't bad and is reminiscent of Chocolate Dipped Pretzels.  The Bacon has a salty flavor and crunchy texture that goes well with Chocolate.  The OC Fair's Chocolate Covered Bacon is okay, but we would have preferred full strips instead of broken chunks.
It's served in Chinese take out boxes with a packet of Salt on top, which seems odd, but whatever — We were done after a few bites, though think it's better than some of the other crazy food items we've tried at the Fair.