Culinary Arts Competition Results At The OC Fair.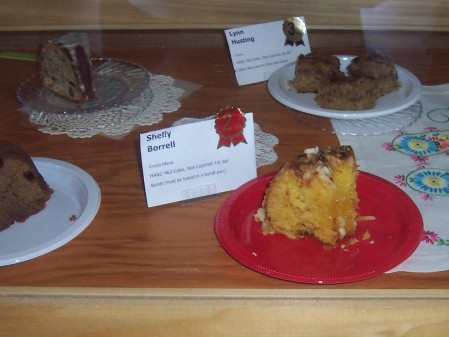 The results are in for the first phase of the Culinary Arts Competition at the Orange County Fair.  I'm excited to learn that my Ambrosia Bundt Cake won a 2nd Place Ribbon and my Gourmet Nut Clusters won a 3rd Place Ribbon.  Not bad for a first time OC Fair submitter — Two for two.  For the second phase of the Culinary Arts Competition, I'll be delivering Scones on July 28th, and for the Single-Day LIVE Judging Contest a Pie on July 25th.
This day I met Jaqui Dulebohn (Santa Ana), a Division Winner in the Preserved Foods Competition.  That's impressive!  It means she won a 1st Place Ribbon, then beat out all the other 1st Place Ribbon winners in the Jam's Division.  Congratulations to Jaqui on her Apricot Jam.  She looks forward to the competition each year.  ALL entries are displayed in the Home Arts Building.  You've got to get to the Fair for all the fabulous food and fun.