Dinner At BOA Steakhouse In Las Vegas.
After seeing Cher perform at Caesars Palace, we walked over to nearby BOA Steakhouse for a late dinner.  It was hard to narrow down a restaurant, since there are so many to choose from, but after this amazing dinner, we knew we made the right choice.  In Las Vegas, BOA Steakhouse is located on the 3rd level of Caesars Forum Shops.  There is also one in West Hollywood and Santa Monica.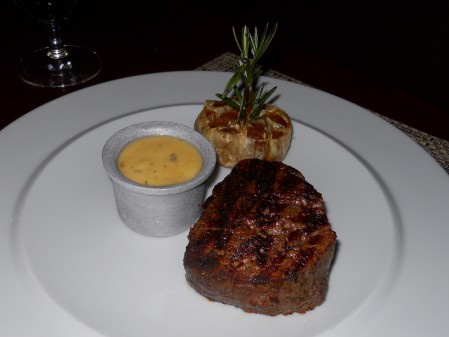 The pictured Petite Filet Mignon might be the best we've had thus far, which is quite a statement since we've enjoyed many-a-good Steak.  This one just seemed to melt in our mouths.  It was ordered with a side of Bearnaise, which was also exceptional.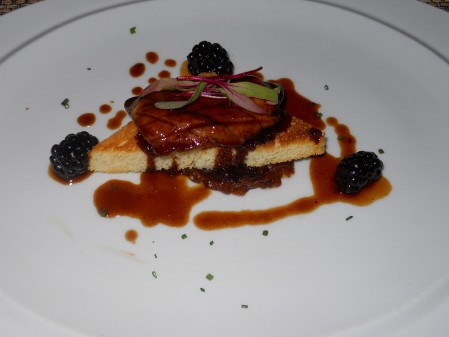 Pictured above is the Seared Hudson Valley Foie Gras and the Chipotle Lime Corn is shown below.  We devoured all with Roasted Garlic Mashed Potatoes, Cadillac Margaritas, and a BLT Salad.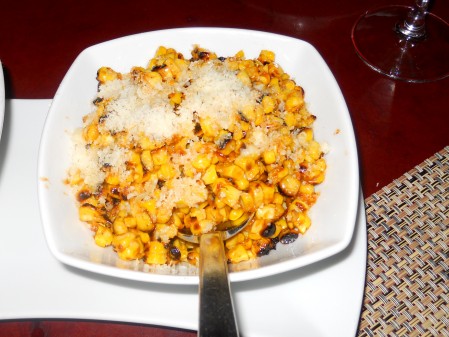 And for dessert we had Hot Fresh Donuts that were liberally rolled in Cinnamon and Sugar and filled with melted Chocolate.  Yum!  As a bonus, they were served with a Vanilla Bean and Caramel Sauce.
All was so good that we wanted to have the same meal the next day, but unfortunately had to leave town.  We defintely look forward to going back someday.  BOA Steakhouse isn't cheap, but it's worth it.  The service was excellent too!