Ever Consider Making Your Own Pop-Tarts?
I never considered making my own Pop-Tarts until contacted with the idea, then thought it'd be fun to give it a try.  The pictured Pop-Tart was indeed good, but questionably worth the work.  With respect to Pop-Tarts, I'd rather grab one out of the box and put it in the toaster oven.  This one tasted like dessert — A scoop of Vanilla Bean Ice Cream would've been right on with it.
I followed the Pop-Tart recipe forwarded to me and used the best Raspberry Preserves I could find.  It's suggested that one simply use their favorite Pie Crust recipe along with the best, thick Preserves to create the ultimate Pop-Tart.  The recipe used to make the pictured Pop-Tart was thought to be a little too buttery for breakfast, but yummy for a desserty-ish treat.
Overall, it's fun to make homemade Pop-Tarts once.  It's decided that we'd prefer to make a Pie rather than multiple Pop-Tarts.  It's less work and nicely cooked packaged Pop-Tarts are good enough.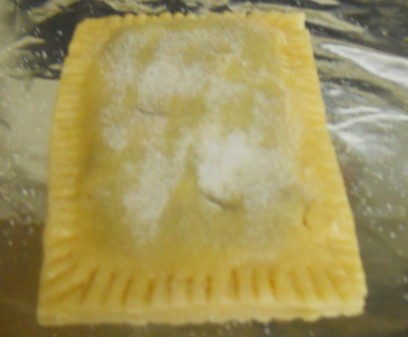 Chef Kristine Subido's Breakfast/Nourish Menu at Wave inspired our attempt at making the pictured homemade Pop-Tart.  We'd love to travel to Chicago sometime to have the real goods.  They say believe in breakfast again — We try.
* Our apologies for the quality of the pre-baked Pop-Tart photo directly above.