Eat Chow Part Deux: The Best Turkey Burger We Ever Had.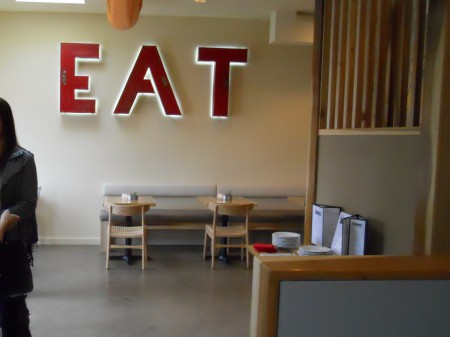 Part Deux on Eat Chow's second location in Newport Beach — See our first report here.
A surprising thing happened at this gathering to celebrate the opening of Eat Chow II…
A few of us (especially me) think we had the best Turkey Burger ever (above), and I usually don't care for them.  Eat Chow makes them with Shredded Lettuce, Tomato, Caramelized Onions, House Made Pickles and 1000 Island Dressing, and Cheddar Cheese on a Brioche Bun.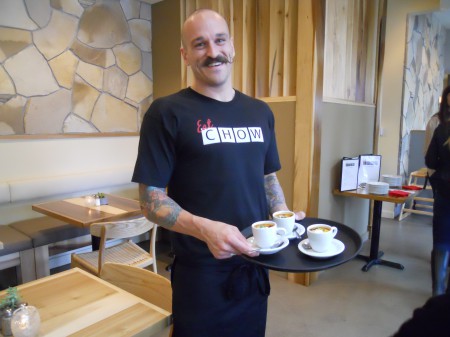 One cool server delivering Turkey Chili Cups to sample — Merci.
Truffle Parmesan Fries and Fried Green Tomatoes.
Media at this celebration to taste, photograph and tweet about the well crafted offerings.
Earlier posted photos are of the Spanish Style Roasted Chicken Salad and Curry Salmon Tacos.
Chocolate Banana Bread Pudding.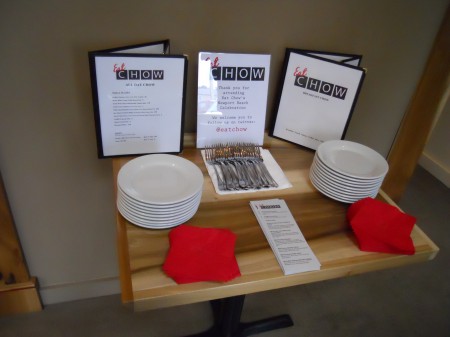 We'll go back to Eat Chow for the Turkey Burger — Can't believe I think that, but it's true.