Fun Fair Food & Competitions Happening NOW At The OC Fairgrounds.
How about a Pepsi Donut Bacon Dog?  You can get one at the Orange County Fair now through August 14, 2016.  It's a Hot Dog that's wrapped in Bacon and served on a Donut topped with a Pepsi Glaze.  We had the opportunity to try it and other new food options at this year's OC Fair.
We attended a "Media VIP Food Party" to taste "Interesting & New Foods at the 2016 OC Fair."
The Bacon Cheddar Brat Burger is pictured above and found at Tasti Burger on Livestock Lane.
Yes, there are healthy options at the OC Fair — My favorite is the Shrimp Pineapple Bowl found at Pineapple Express in the Main Mall area.  They also offer a Teriyaki Chicken Pineapple Bowl.
And you've heard of Chicken Charlie right?  Of Chicken Charlie's?  He's pictured above and always serves something interesting — One of his menu items this year is a Chicken in a Waffle on a Stick.  It's a Waffle with pieces of Fried Chicken cooked into it and it comes with Maple Syrup.
Pink's Hot Dogs is a booth I frequent every OC Fair, but it's because of their Chili Cheese Fries, another one of my favorites.  Aside from that, they're offering a couple of new Hot Dogs this year, like The Lord of the Rings Dog, a Hot Dog served with Onion Rings wrapped around it.
Dominic (pictured above) of Biggy's and Fair Fix & Fried A Fair, both located in the Main Carnival area, tops himself this year with the Bacon Wrapped Pork Belly Dog, Deep Fried Butter, Deep Fried Nutella and more.  Stop by and say "Hi."  All the food vendors we met are friendly.
A drum roll for the Pickle Fries — I love Pickle Fries, especially since my name is Pickles Freis.  My husband nicknamed me Pickles and my last name is Freis.  Thus I'm Pickles Freis.  And these are good Pickles and the Batter is thin and crunchy too.  Pickles Freis very much likes these Pickle Fries.
Tasti Chips with Parmesan Cheese from Tasti Chips, located on Livestock Lane is pictured above. We had the Jalapeno Cheddar Tasti Chips after seeing The Offspring concert last week.
I love the Orange County Fair — There's so much to do and see.
Though you can't eat these flowers, I must post at least one, and Matt capturing them.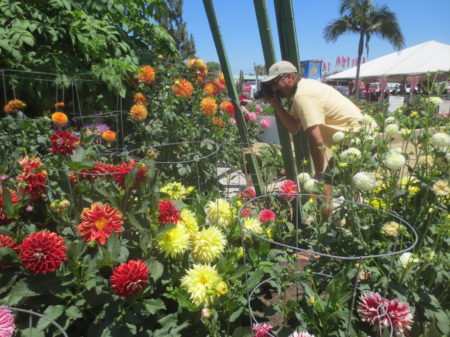 The baby pigs below were only 4 days old when they were photographed here.  They grow fast.
As always, I will be entering the culinary competitions happening at the end of July and in August. I'm working on a couple ideas and hope to claim the first place ribbon I have my head through below.  I tested one of my recipes and it turned out well, but I will report the judge's results.
See you at the OC Fair — Too bad it's not all year long.