Hello Fresh Meal Delivery: A Comparison to Blue Apron And Plated.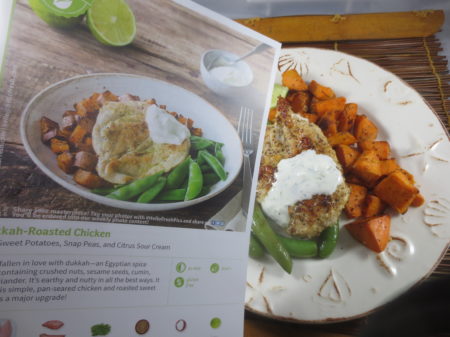 Well… Hellooooooo Fresh.  It's finally your turn — Nice to try you.  It's hard to give-up Blue Apron, but I'm ready.   Temporarily that is.  We previously tried and reported about Plated, another meal (recipe + fresh ingredients) delivery company.  It's my plan to try most, if not all of the popular meal delivery companies and here we try and compare Hello Fresh to Blue Apron and Plated.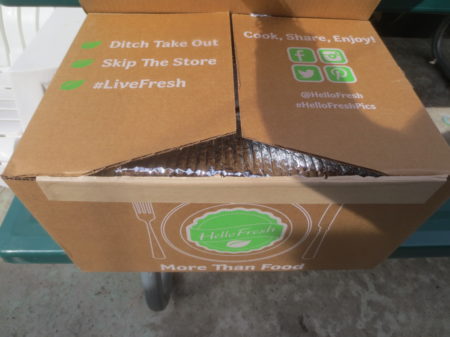 The Hello Fresh ingredients and recipe cards arrive in a large box that lists the enclosed meal's nutrition facts on its side — A nice feature not included on the Blue Apron and Plated boxes.
All ingredients were well packed and arrived fresh.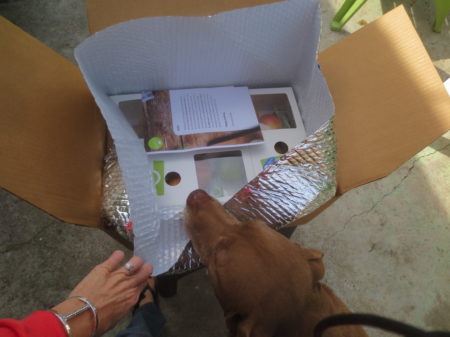 In fact, each meal is packaged individually in nice windowed white boxes.  It's different than Blue Apron and Plated — The recipe ingredients are contained and sealed together in the large box.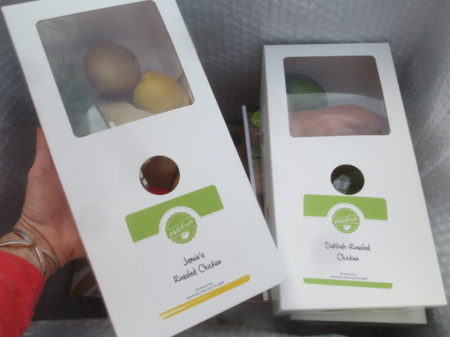 The smaller boxes are impressive, but unnecessary — Hello Fresh can save on this packaging.
The proteins arrive under blocks of ice, as like the others, and all was perfectly fresh.
The Hello Fresh recipe cards are smaller than all others I've used, including the recipe cards from Chef'd, soon to be reviewed here on Nibbles of Tidbits — Check back for that comparison.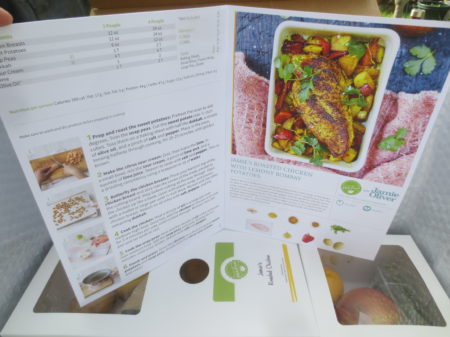 The Hello Fresh recipe cards are harder to read than the others — The card and photo are smaller, thus appear less detailed.  The Blue Apron recipe cards are more user-friendly than those printed for Hello Fresh and Plated.  Blue Apron includes a photo of the chopped ingredients and the others do not.  I had no trouble following the Hello Fresh recipe cards, but Blue Apron's are better.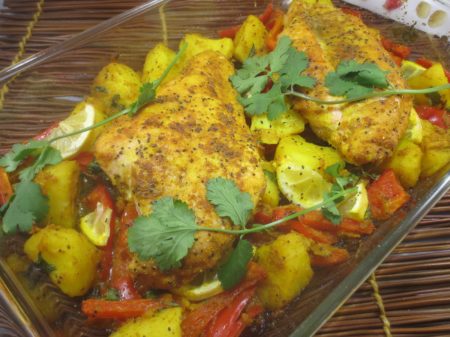 Taste and the recipes — I made Jamie's Roasted Chicken with Lemony Bombay Potatoes (above) and Spring Asparagus and Shrimp Risotto with Meyer Lemon (below).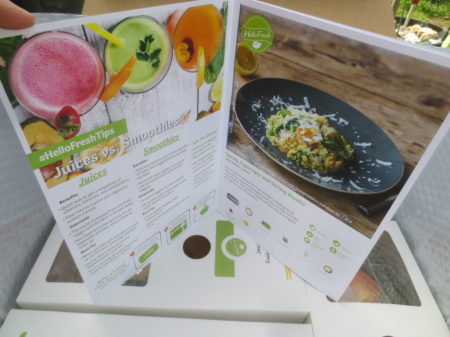 I'm not sure why my Shrimp Risotto (below) looked albino compared to its photo (above).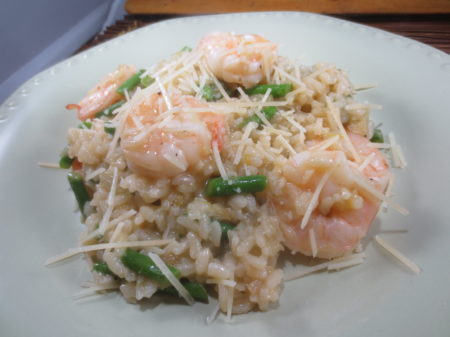 Dukkah-Roasted Chicken with Sweet Potatoes, Snap Peas and Citrus Sour Cream (below). I liked it best from our first box.  Not pictured, we also tried three Hello Fresh vegetarian meals. Since I forgot to deselect upcoming meals, I received a second Hello Fresh box in the mail. Related to that, the Hello Fresh web interface could use improvement.  It's not as easy to view and/or cancel future meals as it is on the Blue Apron and Plated websites.  I had switched from the Hello Fresh 'Classic Box' to the 'Veggie Box' subscription on their website, because it's a better value.
Hello Fresh costs approximately $10 more for a Classic Box (three meals w/meat) = $70.  Three meals w/meat from Blue Apron costs the same as three vegetarian meals from Hello Fresh = $60. Aside from cost, we agree that Blue Apron meals are more flavorful and sophisticated overall. And since they do cost less, they're a better deal all around.  I keep the Hello Fresh and Plated subscriptions open in case there's a meal I can't refuse, but need to manage them better so not to receive meals from all companies in the same week.  Each offers potential for a great meal.