Knott's Season Dining Pass Report: Meals From Wilderness Broiler.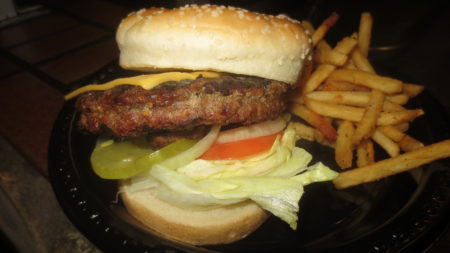 Knott's Season Dining Pass (Report #5):  1/2 lb. Cheeseburger (above) and a Spicy Chicken Sandwich (below) from the Wilderness Broiler on the edge of Ghost Town.  It's our first time trying the Spicy Chicken Sandwich.  It's not as commonly offered as the Cheeseburger.  Speaking of, we may be on the verge of discovering that Knott's Cheeseburger tastes the same no matter what restaurant it's from.  It's just called a Cheeseburger at the Grizzy Creek Lodge, but it seems to be the same, though the Grizzy Creek Lodge has a Condiment Bar offering more to put on a Cheeseburger, Sandwich and/or Hot Dog.  Outside the Wilderness Broiler there's Yellow Mustard and Ketchup only, and neither sound right to remedy a dry Spicy Chicken Sandwich.
I suppose it's called a "Spicy" Chicken Sandwich because it has Jalapenos on it.  That's the only spicy part.  The Chicken didn't appear or taste spiced in any way.  The Chicken Breast was relatively thin, large, well-done and crispy — The type that's best smothered in Gravy and had with a knife and fork, not served on a small, equally dry Focaccia Roll.  Where's the Chipotle Mayo or something like it?  Flavor needs to be added to Knott's so-called Spicy Chicken Sandwich.  I wish I could report it's better.  We like Knott's, but it's only April and I'm starting to realize that I somewhat dread its meals, though we paid for an annual Season Dining Pass.  Well, there's more to try and test and we'll continue to hope for the best.  Come back later to read about the rest.