La Palma Chicken Pie Shop Restaurant And Bakery In Anaheim.
The La Palma Chicken Pie Shop Restaurant and Bakery has been in existence longer than I've been alive — Yelp reviews will tell you more.  I'm new to this old establishment.
I love the prices — They're old school, like the waitresses who may be original too.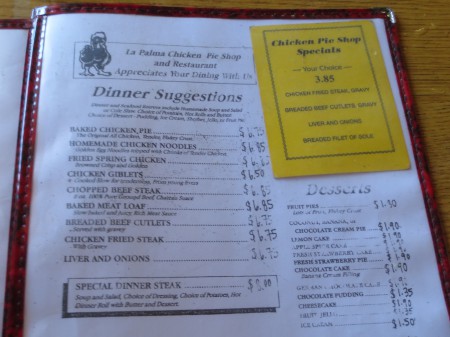 I'm told (and have read) that the Chicken Pie is the best item to order, so it's what we had.
With Dinner, the Chicken Pie comes with Soup and Salad, a Roll and Dessert.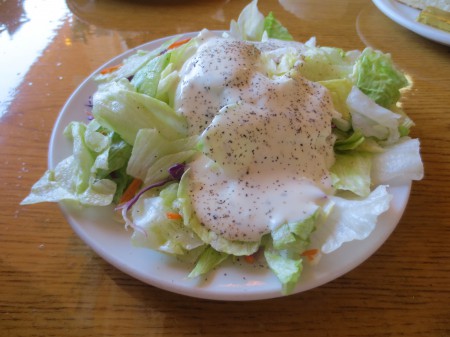 I got the Ranch Dressing, which isn't good (tangy) and I've since read their Roquefort is best.
Dinner also comes with a choice of Potato — We got the Mashed Potatoes.  Gravy covers it all.
I like smothered Gravy — The Crust was still crunchy and has a good flavor and texture.
It is loaded with big pieces of real Chicken, dark and white — You can order it with all White Meat too.  I may do that next time, just to be on the safe side.  No Peas or Carrots are inside.
Peach Pie for me and Matt had the Chocolate Pudding (not pictured).
The interior is old too and filled with decorative Chickens and long-standing booths.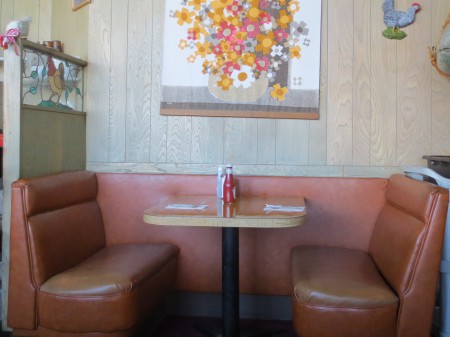 Is that a flower pot on Matt's head and a Chicken on his shoulder whispering in his ear?
Come back, says the Chicken.
It's also a Bakery, as identified — We were too stuffed to try anything.  Next time.
The Baked Chicken Pie Lunch ($5.00) and Dinner ($6.75) are cheap, satisfying meals.