Nibbles Of Tidbits: Playing With Cartoons & Testing Potential Logos.
Have you heard of Fiverr.com?  It's where I got the cartoon above created.  Fiverr.com is a fun, useful, creative place where one can commission a custom cartoon, caricature, logo or other graphic design for a great price.  One can buy and/or sell graphic and design projects, as well as writing, translation, video, audio, programming and marketing projects, and much more.  Check it out.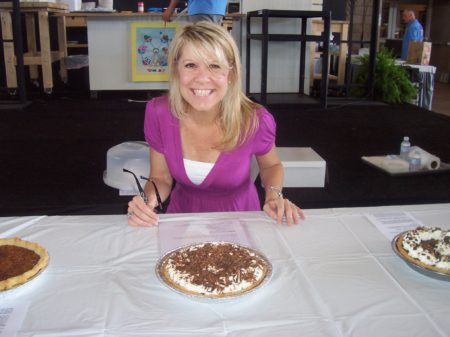 I'm currently hooked on graphics — I commissioned a couple cartoons, vectors and logos.  At approximately $5 – $20 each, I can afford it.  It's interesting working with artists/sellers around the world.  I've had good experiences so far.  Comparison Photo:  A Pie I made won an honorable mention at the Orange County Fair a few years back and this is a photo of me behind it.