Orange County Fair Entry Gone Wild: Submissions Due Today.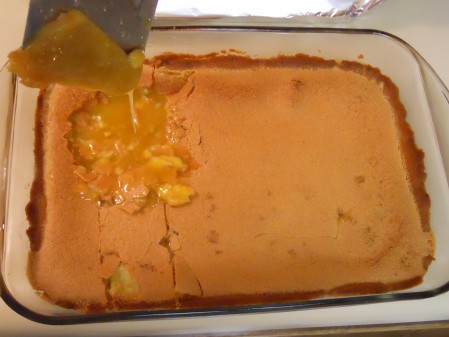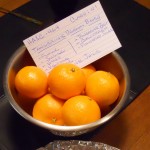 The above dish truly represents 'The Bad' and 'The Funny' about this blog.  The Tangerine Dream Bars (wannabe) was going to be an entry in the Culinary Arts Competition at the Orange County Fair, but it didn't happen.  I was gonna cover the top with Powdered Sugar, but unfortunately there's no masking the soupy, unset middle. 🙁 I'm not exactly sure what went wrong here, since it turned out good last time.  Wouldn't you know it — Two hours before submission time I discovered it looked like this.  Oh well, good thing my other entry was delicious and successfully submitted.  The Orange County Fair starts this Friday, July 16th.  The results will be posted opening day.
Our only entry in the Culinary Arts Competition (1st Show) is the Chocolate Layered Surprise.  It's formed with alternating layers of Milk Chocolate, Waffle Cone, Dried Cherries and Pecans, then cut in squares and drizzled with White Chocolate.  We'll be submitting (2) additional entries in August for the 2nd Show.