The Cost Plus World Market Chip Invasion Taste-Off.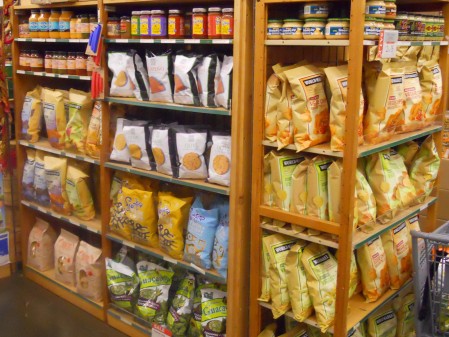 So many Chips, so little time — Well, we actually have the time, but can only eat so many Chips.  We thought it would be fun to sample a cross-section of the vast Chip selection offered at Cost Plus World Market.  Although they have much more than you see here, we ultimately decided to try (7) Bags of Chips and (4) Salsas for our Chip Invasion Taste-Off.
Seven of us gathered for the festivities to determine our favorites — To learn more about the Chips, hover your cursor over the pictured plates below to match 'em up with the Chip Bags above.  It's always good to see what's in a bag before you buy it.
The variety we selected appears to be a good representation of Chip types and brands.  Some are produced especially for Cost Plus World Market, and others you've seen there and at other popular markets (i.e., Kettle Chips).
The same applies to our Salsa selection — The (2) on the left below are specially made for Cost Plus World Market and the other (2) can be purchased there and elsewhere.  And the Salsa verdict is… All were good and enjoyed for their comparative uniqueness.  In other words, the pictured Salsas would be a terrific combination for a party.  One was spicy (Chipotle), one was mild (Roasted Tomato), one was cheesy (Chili Con Queso) and one was chunky (Corn, Black Bean & Red Pepper).  All were picked as a favorite by one or another, with the most votes cast for the Frontera Chipotle and Cost Plus World Market Chili Con Queso.
With respect to the Chips, the verdict was all over the board.  The favorites were the Gaytan Baked Cheese Puff, Sweet & Spicy Tortilla Chips with Flaxseed and the Death Valley Chipotle Chips.  We really don't think the Spinach & Artichoke Chips taste like Spinach and Artichoke, but they're a good dipping Chip for any Salsa.  The favored combo seemed to be the Veggie Tortilla Chips (due to their neutral flavor) dipped in the Chipotle Salsa.  It's all good.
Note: Nibbles of Tidbits loves Cost Plus World Market — Check back to learn about our future Candy Taste-Off, our picnic inspired by Cost Plus products and more.  We have a lot of great ideas, because they have so much cool stuff!