Pinkberry Swirly Gram: A Different Idea For Valentine's Day At The Office.
I like that Pinkberry is always coming up with something new — Right now they're making hearts swirl by introducing the Pinkberry Swirly Gram.  It's a unique Valentine's Day Treat that's delivered.  You can send one now through Valentine's Day.  Learn how to here.
Pre-Valentine's Day I happily received a Cupid's Swirl with a Swirly Spree, respectively translated, a Chocolate Frozen Yogurt with Brownie Bites, Raspberries and Shaved Milk Chocolate, and a gift-wrapped Pinkberry Gift Card — All was hand delivered to my office with balloons and a smile. 
Didn't get a photo of Cupid's Swirl before melting, but you can tell it's good.  Senders choose from 3 flavors — Chocolate as described, or Blood Orange Yogurt with Blood Orange Pieces and Waffle Cookies, or PB's Original Yogurt with Toasted Almonds, Strawberries and Dark Chocolate Crisps.  All combinations sound perfect to me.  I have to try the Blood Orange.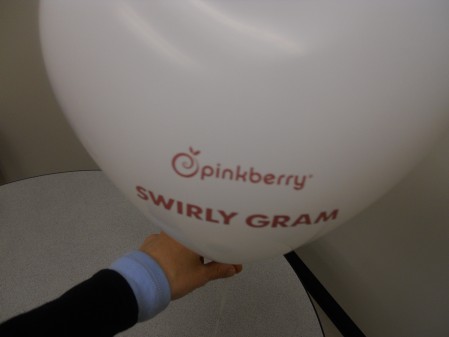 Thank you Pinkberry — I only inhaled the helium from one balloon.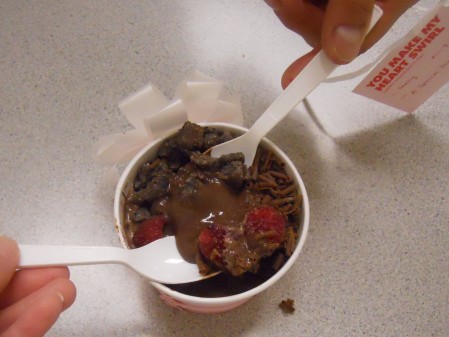 Three who shared in the delivery experience and consumption agreed the Yogurt and toppings were excellent and it was a fun distraction at the office.  Valentine's Day falls on a Monday.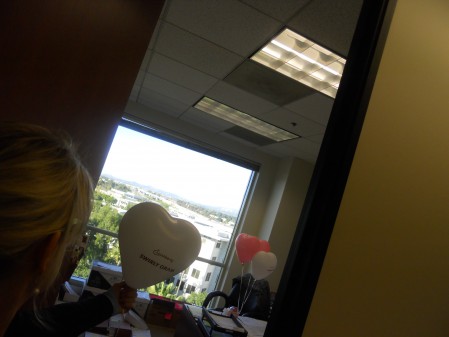 The day looked brighter as I went back to my office.
I sent the Swirly Spree to a nostalgic friend who reported to like Pinkberry this very day.  Good timing for him — It went to a good home.  Enjoy!  We sure did.  See earlier reports here.