Sandy's Beach Grill In Huntington Beach (Surf City).
Today we attended a Grand Opening Celebration for Sandy's Beach Grill.  We didn't want to miss it, since it's pretty much on the beach and it was a beautiful day.  Sandy's Beach Grill is the newest restaurant from TS Restaurants of Hawaii and California.  It now occupies the former Chimayo's location in Huntington Beach (Surf City).  TS Restaurants is also the parent company of Duke's, the restaurant upstairs.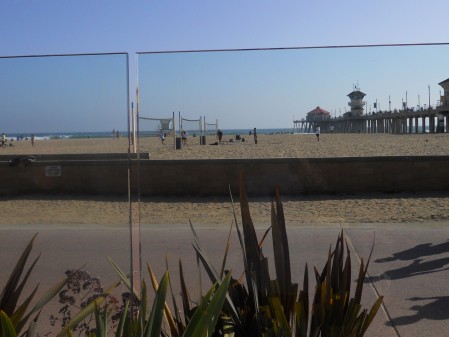 Above is the view from the large outdoor patio next to the Huntington Beach Pier.  As guests at the celebration, we enjoyed the sights and a sampling of their menu, and our drink proceeds go to benefit the Friends of the Junior Guards.
Sandy's Beach Grill specializes in Small Plates — All is meant to be shared.  They also offer a few "Bigger Plates" as well as Burgers, Sandwiches, Thin Crust Wood Fired Pizzas, Soups and Salads.  The menu has a nice variety to choose from.
Pictured from top to bottom we tried a good cross section of all — Grilled Shrimp Flatbread, Seafood Ceviche, Free Range Tofu Bites (Free Range Tofu, that's funny), and Mini Fish Bites (exact name unknown).
From left to right below, we also sampled the Veggie Sandwich, Smoked Chicken Flatbread and Cajun Lamb Chops.  We like everything we tried, especially the Cajun Lamb Chops, Grilled Shrimp Flatbread and Pork Lettuce Wraps (not pictured).  We're excited about the menu and look forward to going back to try more.
After consuming the above with a few Mischief Strong Ales recommended by the Bartender, the last photo shows our shadows waving from the pier.