Staub Enameled Cast Iron: The Best Chicken In The Best Pot.
We received this Staub Cast Iron Cookware as a gift for our wedding.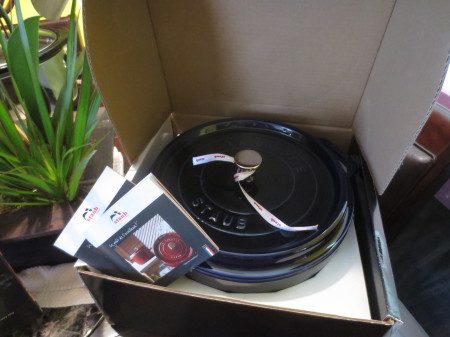 It's from one of the attorneys I work for as a paralegal — His family swears by it.
I've given away Cast Iron Pots in the past — I generally thought them to be unattractive, to rust easy, and be too heavy to use.  Well… This one is NOT unattractive.  In fact it's so gorgeous I can't stop staring at it.  I want to keep it nice forever.  It's still pretty heavy, but I greatly appreciate its enameled surface and think it would be less apt to rust.  Thank you!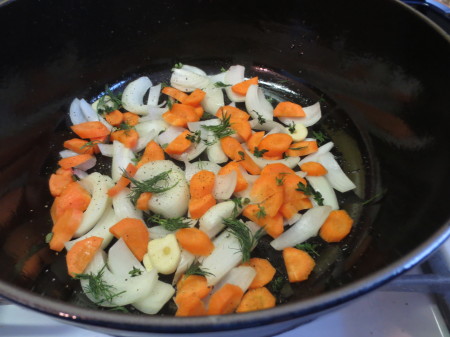 The first thing I cooked (several times already) is a Whole Chicken.
This one is seasoned with Salt, Pepper, Garlic Powder and Paprika — Each has been different.
And was simply placed a-top roughly chopped Onions and Carrots.
I include Fresh Herbs if I have them.  Dill and Thyme (my favorite) were added to this Chicken.  I add most in its cavity and some to the Carrots and Onions, since I later puree all with a little Chicken Juice and Chicken Stock to make a Sauce to serve with it — A quick alternative to Gravy.  Cook Chicken covered in the oven at 325° for approximately 3 Hours.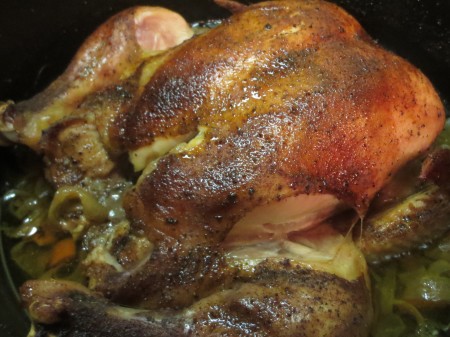 Put it in the oven and forget about it until the timer goes off.  It's a great meal and our house smells good too.  I'll experiment with a different pot to assess the difference in Chickens using the same cooking method and report back soon, if I can give up this pot for a bit.  Staub is made in France and this one has a self-basting system, you can read more about here.