Taste Of Temecula Wrapped Up With Samplings On SOCO Patios.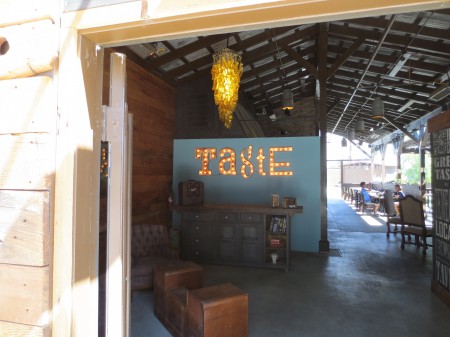 We took a short trip to Temecula to celebrate our engagement.  Thanks for the engagement gifts and money.  We didn't expect anything and finally cashed a few checks sent over a month ago.  Sorry.  We were set to spend it on backyard lounge chairs, but couldn't find one long and comfortable enough for Mr. 6'4″, then considered it towards a new dishwasher, until deciding to spend it on a spontaneous weekend of eating and exploration.  Thanks for the fun!
It started with Coffee, King's Hawaiian Rolls and a Lottery Ticket from 7-Eleven in Fullerton.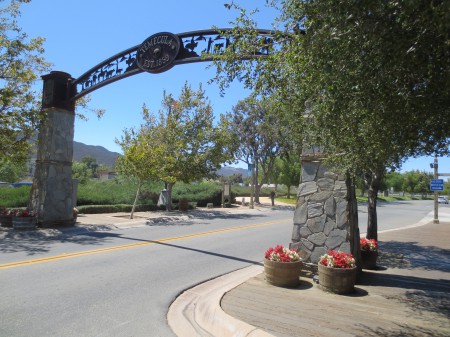 Without any research, we stopped at various places of interest along the way and all day.
Once in Temecula, we started with a Mango Margarita at Rosa's Cantina.
Where next?  We picked on a whim.  If it sounded good and had AC we were in.
One of our favorite stops was at Crush & Brew, where we sniffed and tasted Wine.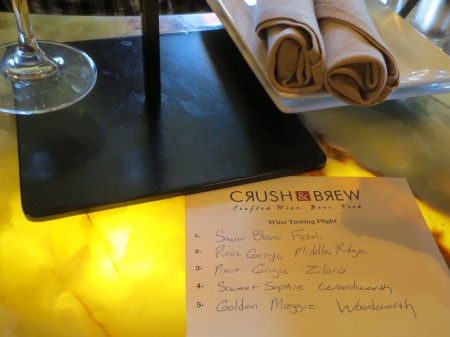 We liked #3 (above) best and contemplated buying a bottle, but wanted to stretch our bucks to try more places and things.  Crush & Brew also offers the largest Flat Breads we've seen.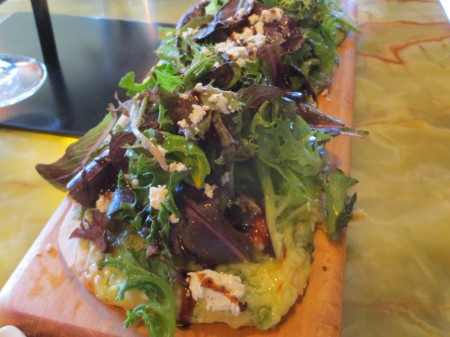 We had the Greek Flat Bread, which filled us up good (and we were trying to save room).
We take a moment to thank you for this opportunity — On to more Temecula finds…
I'm not sure what Death Paste (above) was/is — We didn't want any. 😉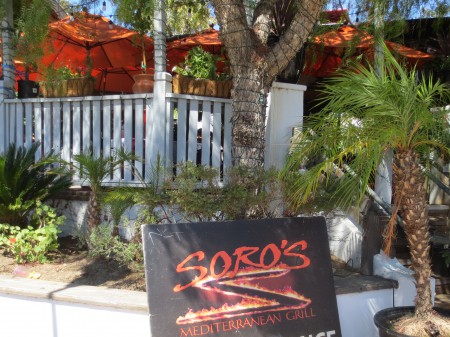 Soro's Mediterranean Grill was our next stop for Dolma (aka Dolmades) and Iced Tea.
Blackbird Tavern is below — It's a large, super-cool, indoor/outdoor restaurant and bar.
What a great space they have — You wouldn't know it from the front.
All this outside is hiding inside — Blackbird Tavern is the place I miss living next to the most.
I'm not sure what you call the toss-the-beanbag-game, but we played it — See it in flight?
I liked the starter (below) so much, I recreated it at home — See the recipe here.
It's called Olives & Almonds on their menu.
Menus are inside album covers — I don't know Lee Evans.  Also pictured is The Blackbird.
We finally scratched our scratcher and won nothing — No worries, it's a great day.
All pictured above are located on or off Old Town Front Street in Old Town Temecula.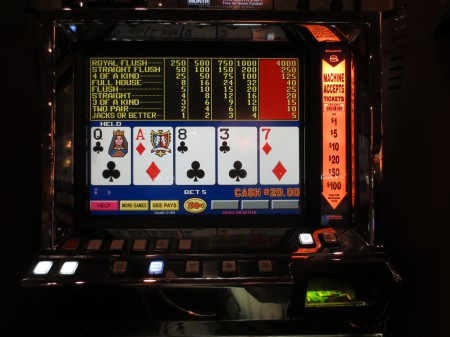 Stopped at PALA Casino with only $20 of our $250 designated towards hopeful multiplication.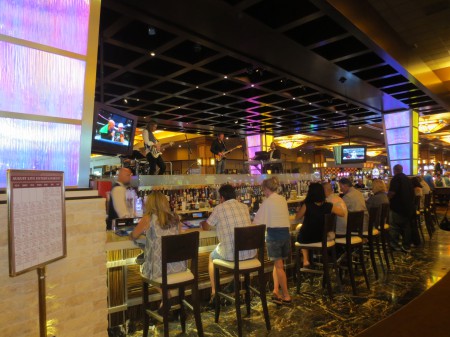 It was instead hijacked from the bunch after a short time in play.  Adios.
On the road again… We bought Avocados off the side of the road.  I always want an Avocado.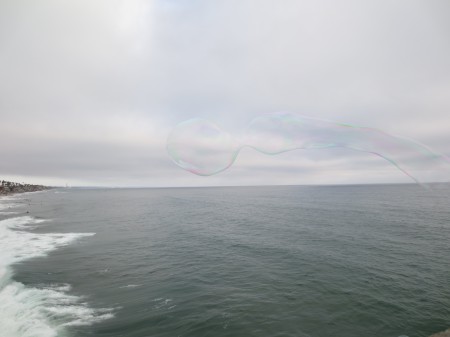 On the way home, we stopped and walked around Oceanside — View from its pier on an overcast day.  The sun disappeared awhile, but do you see the giant bubble?  Some guy was making them.  Since we still had adventure money to spend, we planned to stop at The Beach House in Laguna Beach to exhaust the rest, but there was an hour wait and we didn't want to.  Instead, all was saved for the next day's escapades in the SOCO District of Fullerton.
We started at our favorite Tea Lounge — Tranquil.  Iced is always refreshing and flavorful.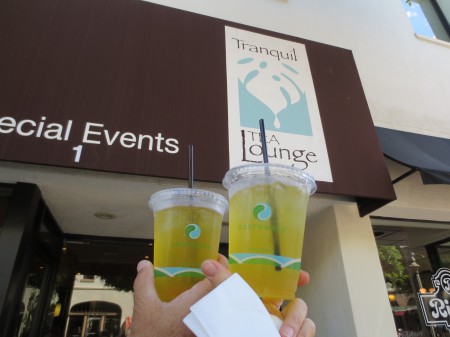 Ended up at Joe's No Limits! Bar & Grill — We sought to eat and drink on patios only.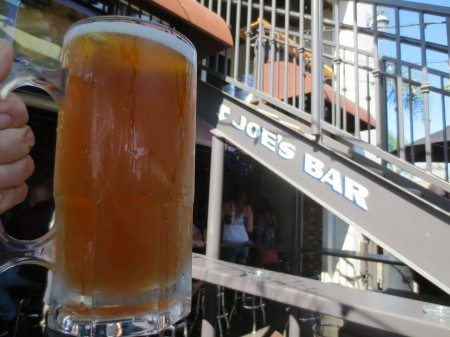 Had 'Joe's Picks' Sausage selection — I liked the Chicken & Jalapeno Sausage, primarily.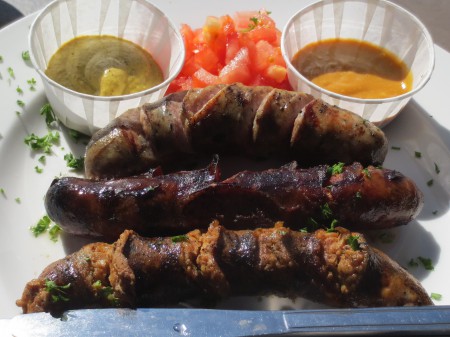 Though the menu doesn't say, we were glad the above came with really good French Fries.
After Joe's, we went to The Slidebar Rock-N-Roll Kitchen (below).
Cheers to more food and drinks on SOCO patios.
The Slidebar offers a long list of Opening Acts (they call 'em) aka Appetizers.
We had the Smothered Tots and Deep Fried Pickles — Well prepared and different.
And the Deep Fried Mac N' Cheese — Not the healthiest options, but it just so happened.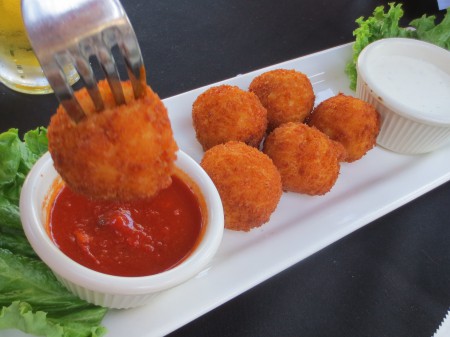 Do you know where this heart is found?
It's at Fullerton Train Station.  We considered eating there, but opted for Hopscotch Tavern.
We were down to our last few engagement-dollars and almost done eating.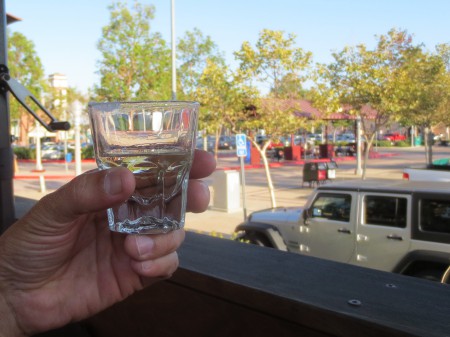 On our final SOCO patio of the day — Hopscotch Tavern we had a shot of Tequila — Mezcal.
And Donuts with Lavender, a dessert special — I like the Hopscotch menu and will go back.
We appreciate the weekend journey — It was worth it all and so much more.
Smiling faces here. 🙂