The 14th Taste Of Anaheim At The GardenWalk.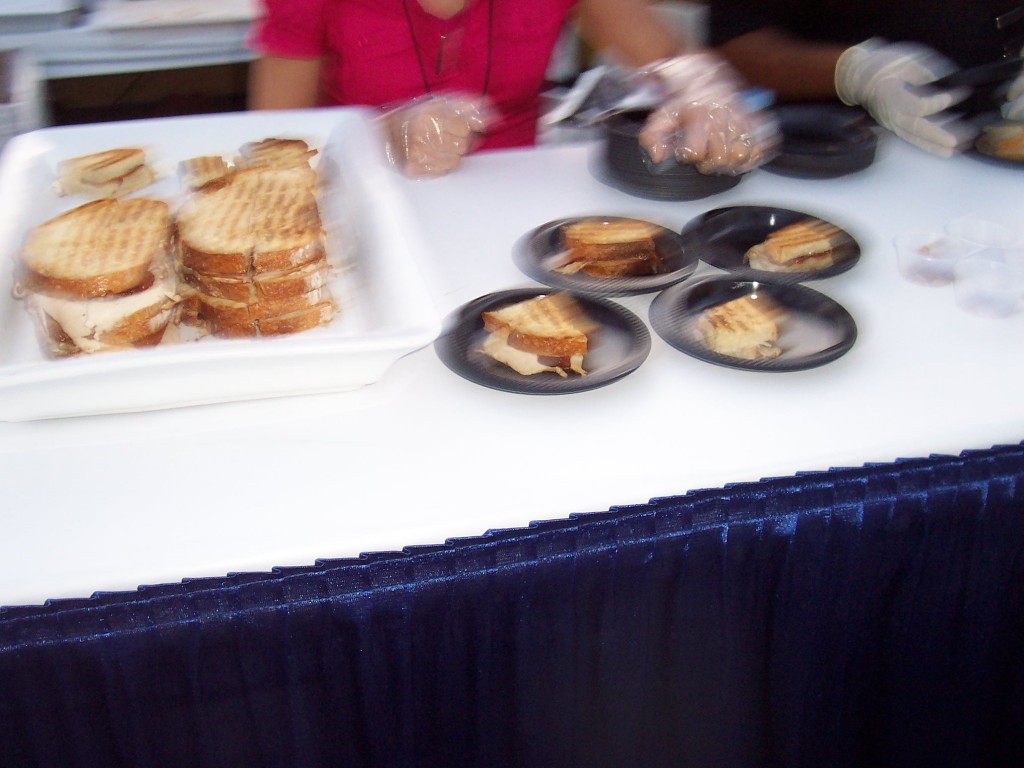 I like the blurry hustle of the photo above.  We almost tried everything at the 14th Annual Taste of Anaheim and took a few notes.  This year it was held at The Shops at Anaheim GardenWalk, an outdoor mall venue that seems pretty nice — My friend was purse and clothes shopping in between eating.  We were able and happy to squeeze it all in. 🙂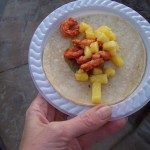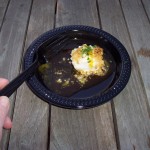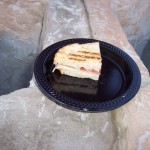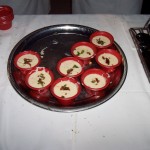 Above from left to right working on down, we had Shrimp and Pineapple Soft Tacos from Tortilla Jo's, Mahi Mahi from The Rainforest Café, Panini's from I forgot where (sorry), Spinach and Artichoke Dip from Mimi's Café (YUM), Corn Chowder from Storytellers Café (YUM too), and I forgot what exactly from Geisha House — Its presentation was nice.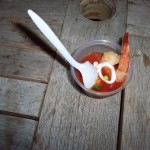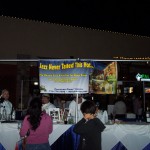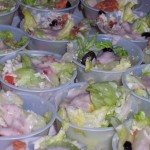 Continuing above is Gumbo being served from Café Orleans (I think), Creole Shrimp from Ralph Brennan's Jazz Kitchen, Sundried Tomato Hummus on Cucumber from Lazy Dog Café, and Chopped Salad and Meatball Sandwiches from Oggi's Pizza & Brewery — The Meatballs were very good.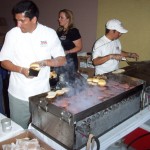 We had Chicken Tikka and Samosas from Chakra Indian Cuisine, and as previously reported and linked below, the Bubba Gump Shrimp Company Crab Cakes and taste-TEE Sauce was a favorite, especially since they had an abundance of food, which beats a few.  And I'm not sure who was serving the Cupcakes above, but they look pretty.  I should have logged that name for sure, but after a couple Glasses of Cabernet some things just don't matter, HA.
One thing we did care about was that a few restaurants ran out of food before the event was over.  The Taste of Anaheim ran from 5:30 – 9:30 PM and a few restaurants were out of food at 8:30.  To me, that's not acceptable.  I paid $35 expecting to eat something from Roy's Hawaiian Fusion Cuisine and Mr. Stox Restaurant, but their spaces were hollowed by the time we got to them.  That was disappointing and shouldn't happen.  Ruth's Chris Steakhouse also ran out of food, but scurried to serve something, Hamburgers.  Although it wasn't what we hoped for, we give them points for trying.
Related Link:
http://www.ineedtext.com/FoodBlog/?p=5212