The Lazy Dog Cafe Opened At The Market Place In Irvine.
Welcome to Irvine — The Lazy Dog Cafe.  We're lucky to have you.  The Togarashi Edamame Beans (above) lead this post, because we think they're the best Edamame in Orange County.  Wash your hands good before eating 'em, so you can lick your fingers.  Their smoky flavor is amazing.  My friend couldn't stop talking about them, thus they made one of the biggest impressions.
The Lazy Dog Cafe at The Market Place in Irvine just opened a few days ago.  Nibbles of Tidbits happily attended a pre-opening sneak peek and we now report about a small portion of what's on their menu.  To sum it all up, we were impressed with everything — The service, decor, friendliness, food and prices.  Here's what we had… Trio of Hummus Dips which includes a Walnut Pesto, Sundried Tomato and Traditional Hummus served with Flatbread, Cucumbers and Tomatoes.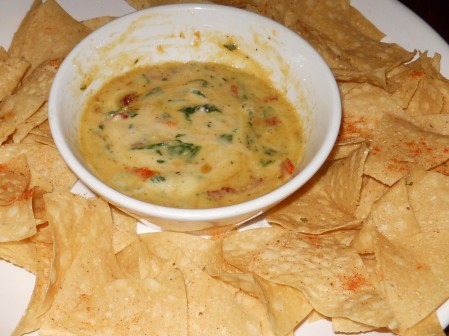 Spinach & Sundried Tomato Cheese Dip with Jack, Parmesan and Swiss Cheeses blended with fresh Baby Spinach, Garlic and Sundried Tomatoes.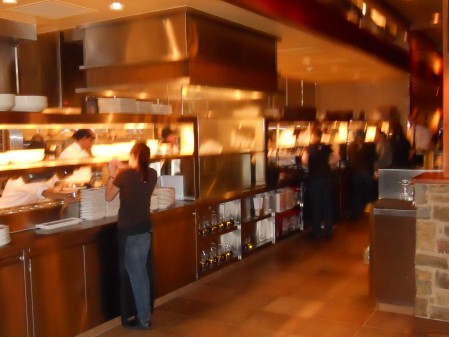 Our sneak peek included a tour of the bustling kitchen and dinner with fellow Orange County Food Bloggers.  It was super fun to meet Scott from Foodie in Disguise and see Christian again from OC Mex Food.  And Griffin Eats OC posts another interesting report on The Lazy Dog Cafe.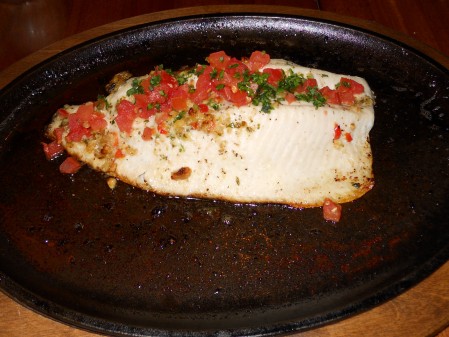 Continuing with the food… We enjoyed the Cast Iron Idaho Trout that's baked in a cast iron skillet with Sea Salt Roasted Vegetables, Baby Potatoes and topped with a Citrus Walnut Brown Butter Sauce.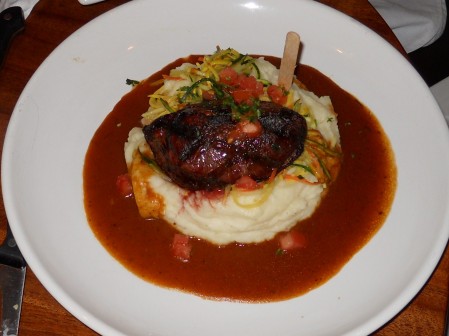 Bacon Wrapped Coulotte Steak (best part of the Sirloin) served over Confetti Veggies and Mashed Potatoes with Burgundy Wine Sauce.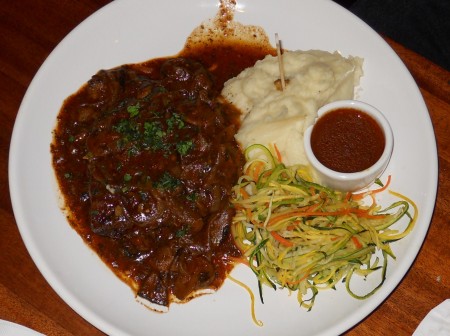 Mushroom & Onion Flat Iron Steak topped with sauteed Madeira Mushrooms and Onions, served with Mashed Potatoes and Confetti Veggies.
Beer Battered Fish N' Chips made with Coldwater Cod and served with a Horseradish Tartar Sauce, Asian Slaw and French Fries.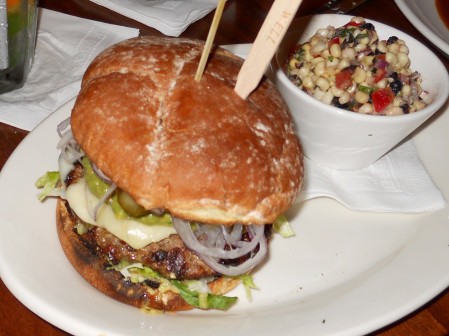 Baja California Burger with Guacamole, Ortega Chilis, Jack Cheese and a Jalapeno & Lime Aioli with a side of Sweet Corn Salad.
The Bar Top is spectacular — I could stare at it all day, but probably wouldn't get much accomplished.  Unfortunately I don't remember the cool specifics about it, but 'it ain't no laminate' on top.  We'll ask our resident Interior Designer, Guest Blogger Bonnie to add a footnote about it.
Also pictured above is the Iceberg Wedge Salad, Chicken Tortilla Soup and a Cobbler — By the time the desserts came along, I was stuffed and had to get a move on, thus don't have a clear report on the best part of the meal for some.  I sure wish I could take a bite now.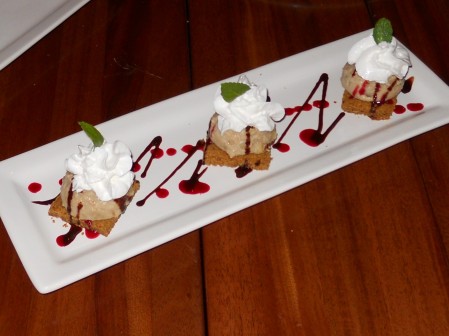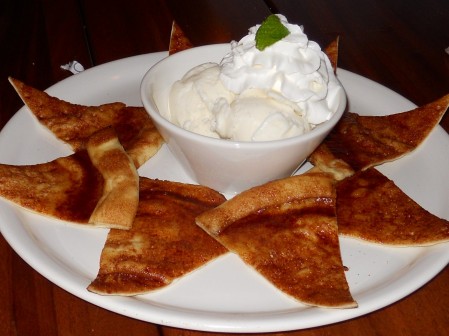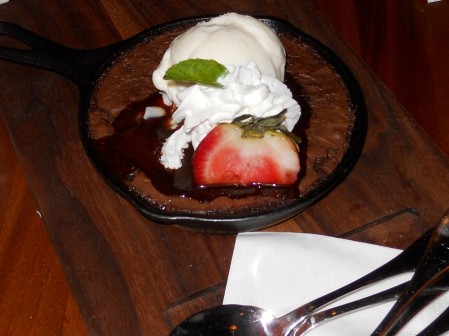 The view below is from the entrance looking into the bar.  It's a big, cozy place with a menu to satisfy all tastes, even a dogs.
Dogs are welcome on the patio and even get their own menu upon request.  Not yet mentioned is The Lazy Dog Cafe's Drink Menu — Who has time, fresh Mojitos, Margaritas, Lemonades and more, oh my.  I'll go to The Lazy Dog Cafe anytime!