Easy & Delicious Appetizer: Bacon Wrapped Dates.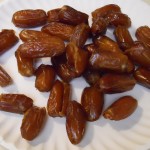 Bacon Wrapped Dates – They're amazing tasting and one of the easiest appetizers to make.  The sweetness of the Date goes so well with Bacon, the only two ingredients in the recipe.  Just wrap short slices of Bacon around each Date.  I cut the Bacon with kitchen shears, after wrapping it once around the outside of the Date.  And I've since learned it's not necessary to secure the Bacon on each Date with a toothpick, if you press it together well when assembling.  Then bake all in a 350° oven for 25 minutes (or until nicely browned) turning once about halfway through.  Cool slightly before diggin' in, so not to burn your mouth on a hot Date.  With that in mind enjoy!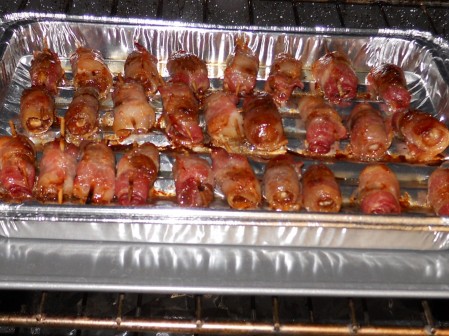 Many Bacon Wrapped Date recipes include Cheese, such as Cheddar or Parmesan that's stuffed in the center of the Date, but we prefer them without Cheese — It's a good thing too, since they're faster and easier to make.
* If you like this recipe, you might also like Bacon Wrapped Asparagus.