Unglamorous Chocolate Judging & The Weirdo Gauntlet To The Pier.
It's my 2nd year as a Judge at the Los Angeles Luxury Chocolate Salon — Last year is here.
Though it sounds glamorous, it really isn't — Too much Chocolate is possible.
Its location, the Santa Monica Civic Auditorium is best as a venue for an 80's concert.
For this purpose, booths/tables were set up to hand-out tiny to full size pieces of Chocolate (and other unique Candies) to those who paid to attend the event.  Personally I never love to stand in line after line, but some products and people make it worth it, like Deuvo (above).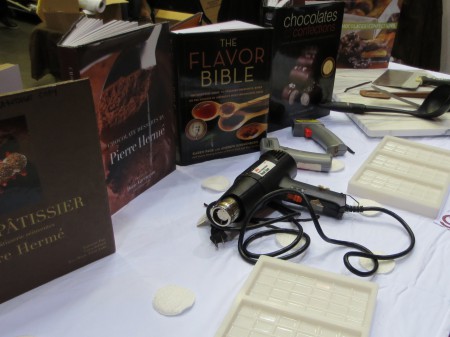 All may take a Chocolate making class at The Gourmandise School of Sweet and Savories.
It's in Santa Monica — At the end of the class, you're sent home with lots of custom Chocolate.
Le Cordon Bleu College of Culinary Arts students sculpted Chocolate Flowers and more.
They made this mostly edible Cake (above) to display their talents — I just LOVE it.
More Chocolate and Brittle samples — I've already voted and will say this… I most appreciated Mignon Chocolate and might of preferred to buy those pictured at top and head to the beach.
Since the Santa Monica Civic Auditorium was a short walk from the booming Santa Monica Pier, that's where we went — We hadn't been there in years and luckily arrived intact, once passed the crazy guy yelling every word that shouldn't be written here, plus all the other clowns along the way.  It's a bit of a weird world there, Venice like we come to realize.  Interesting.
Cheers to the Chocolate, from the Mexican Restaurant at the end of the Santa Monica Pier.
It was cool kickin' it there with Sirloin, Chicken and Shrimp Fajitas — All was tender but bland.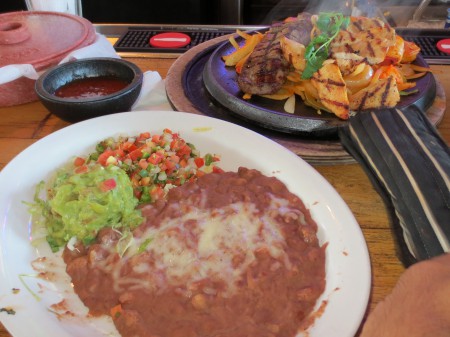 Overall, nothing to complain about this day, but all is checked off the list.  Thank you.