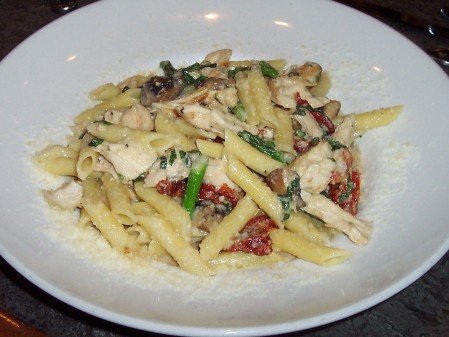 After meeting a work deadline, we were happy to finally be sitting down for a late lunch at the Yard House.  This day we tried the Penne Pasta with Chicken and a Grilled Pastrami Sandwich.  The Garlic in the Pasta overtook our table and car, a little too much — And we were hoping for more of a Marsala flavor, since that's how it's described.
The Yard House BBQ Chicken Salad is huge.  Their portion sizes are always generous.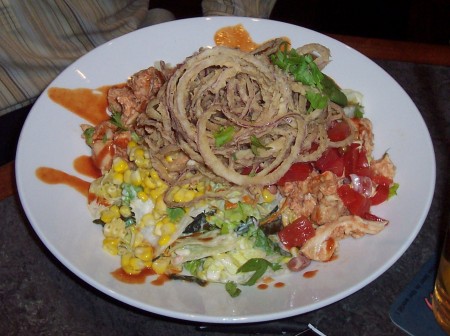 Below is the Portabella Burger, although not its best side, the Eggplant, Roasted Red Peppers and Feta make it a tasty Sandwich.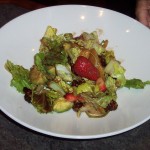 The Summer Salad includes fresh Strawberries, Avocado, Oranges, Candied Walnuts and Leeks, a fun combination of ingredients.  A White Balsamic Vinegar might be aesthetically better on this Salad than a brown one.  Overall, the Yard House serves a lot of excellent dishes.  Our preference is Happy Hour, when the appetizers are half price.
More INFO and Yard House food photo LINKS:
http://www.ineedtext.com/FoodBlog/2008/08/22/happy-hour-at-the-yard-house/
http://www.ineedtext.com/FoodBlog/2008/11/10/the-yard-house-happy-hour-food-pictures/
http://www.ineedtext.com/FoodBlog/2008/11/27/more-yard-house-12-price-apps-in-the-house/