Happily I've never had a bad meal at Benihana — The restaurant chain opened more than 40 years ago.  I've dined at several locations across the states and haven't left any without a smile on my face.  The food is always fresh, cooked perfectly and it's fun to watch it happen.  And if you join The Chef's Table, you'll receive a complimentary meal during the month of your birthday, a $30 value.  It's a great deal.  If you have a birthday coming up, join now.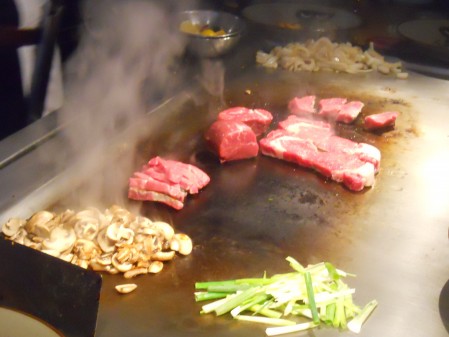 This visit we ordered the Land 'N Sea, which includes Benihana's Onion Soup and Salad, a Hibachi Shrimp appetizer, Zucchini and Onions, steamed or fried Rice, Ice Cream and Green Tea, as like most meals.  The Land 'N Sea also consists of Filet Mignon and Sea Scallops that are grilled with Lemon and Butter.  Everything tasted fantastic and the cooking show was entertaining as usual, especially when our chef missed catching an Egg that fell and cracked on the floor — It happens.  Unfortunately that photo turned out blurry.
These photos were taken at Benihana's Newport Beach restaurant.  We recommend Chef Roberto, who is pretty darn funny and talented.  The service seems extra good at this location.  Management was walking around making sure everyone was happy and satisfied.
Chef Roberto made a heart out of the Fried Rice and a volcano out of the Onions.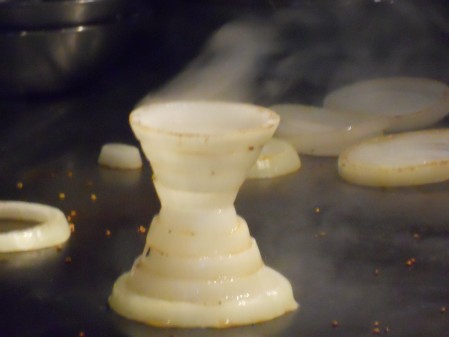 Our Filet Mignon and Sea Scallops were perfectly cooked, as usual.
Keep it coming — We're always stuffed on the way out and have leftovers for the next day.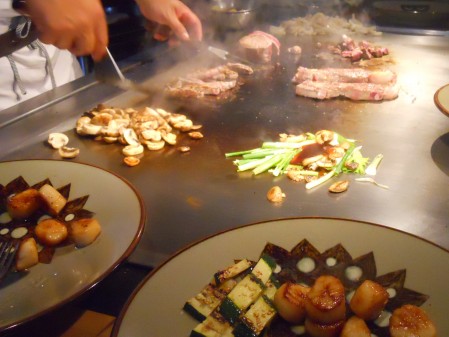 Although we've enjoyed countless meals at Benihana, this is Nibbles of Tidbits' first report.
We celebrated a couple birthdays at our table, thus appreciated the complimentary photo, beautifully carved Pineapple and song.  Chef's Table birthday meals are honored without a hitch — Just bring in the printed voucher with an ID and you may redeem it anytime during the month of your birthday.  It's a terrific deal.