Crepes Bonaparte and about 50 other Gourmet Food Trucks will be at the OC Fair New Year's Eve Block Party.  We had the pleasure of trying their food at the Preview Event and what a treat it was.  All was fresh tasting, sizeable and high in quality.  Merci CB!
Check out their MENU and good prices too.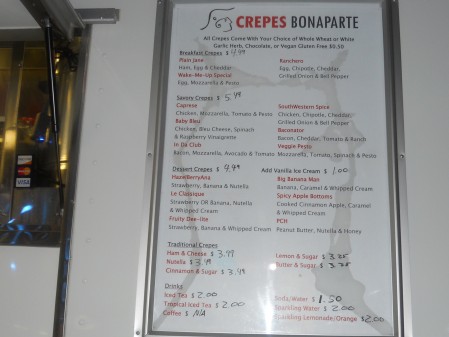 For our savory Crepe, we tried the Baby Bleu.
As you can see below, folded into the Baby Bleu is a generous amount of Chicken, Bleu Cheese, fresh Spinach and a Raspberry Vinaigrette — The combination goes well together.  Unfolded it's not as glamorous, but you're able to see the quality of its ingredients.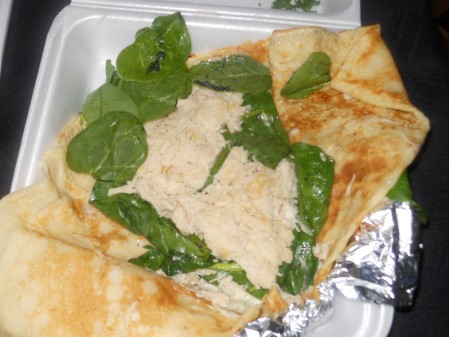 And for our sweet Crepe we tried the HazelBerryAna with a side of Ice Cream — It consists of fresh Strawberries, Bananas and Nutella, a Hazelnut spread that seems to be all the rage these days, all rolled up (or triangle folded) into a large tasty Crepe.
Two of us shared both, but still couldn't finish it all, especially since we had to save room for more truck meals.  It was a lot of food that I'd like to have right now.
I don't know his story, but this fun DJ will be playing tunes at the New Year's Eve Block Party too.  If the Preview Event is an indication of his talent, we're in for good music on NYE.
If you've heard of Crepes Bonaparte before, but aren't quite sure where, it could be that you remember them from the Food Network's "The Great Food Truck Race" — They were one of seven truck teams competing for a $50,000 grand prize.  They were eliminated from the competition in week three and now truck proudly around Orange County.  Lucky OC.
Several other food trucks were serving up deliciousness at the Preview Event and I luckily spun the wheel to receive a sampling from Rolling Sushi.  And toys were being collected to receive $5 off the price of admission to the OC Fair's NYE Block Party.
Although not in the mood for Sushi this night, I was pleasantly surprised by the quality and flavor of the pieces we received — And my guest who is afraid of Sushi even liked 'em.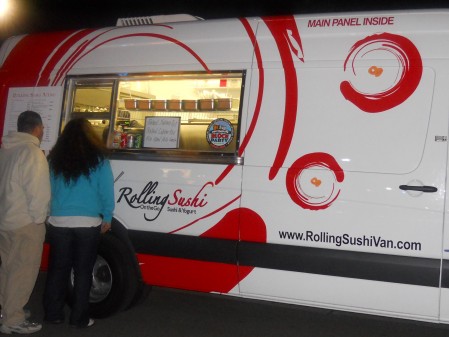 I unfortunately cannot recall the exact names of the pictured items, but Rolling Sushi's menu is linked here.  They'll be present at the NYE Block Party too, thus you'll be able to try all then.  And their impressive service is worth mentioning too — They were so nice.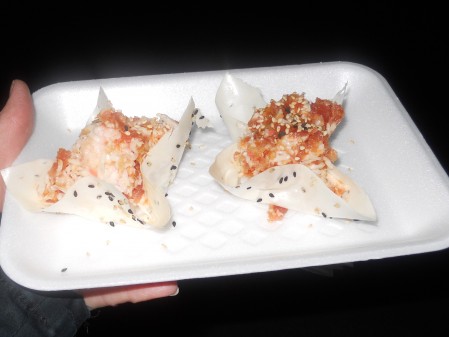 Tickets are still available for the OC Fair New Year's Eve Block Party, so if you want to try Crepes Bonaparte, Rolling Sushi and several other popular Gourmet Food Trucks, buy your ticket today.  And why not go all out with a VIP ticket — It comes with a few extra perks. 
And finally, 12 lucky winners will have a chance to welcome in the New Year with a blast by free-falling at the OC Fair New Year's Eve Block Party at midnight.  In other words, twelve coveted spots are being offered for a special midnight "drop" on the Super Shot Free Fall Ride.  Interested riders can enter online at ocfair.com/giveaway and enter the code "countdown."  Winners will be selected on December 30th and must already have a ticket to the event.  Good luck.
I hope to see you there — Happy New Year!