And The Winner Is… Sunday Night Chef Fights & Chef Nicola Bellazzi.
Congratulations to Chef Nicola Bellazzi who is the new Champion Chef of Orange County in the Sunday Night Chef Fights circuit, de-throwning Chef Lindsay Smith-Rosales — It was a fun experience and the food was much better than expected.  I was a little unsure, since the drawn and mystery ingredients were Ham, Cauliflower, Sweet Potato and Coconut.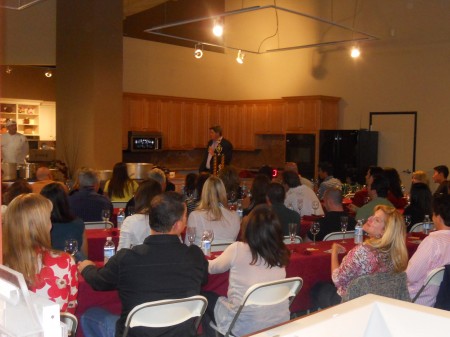 To learn more about Sunday Night Chef Fights see here.
Chef Bellazzi cooked first — Each Chef had 30 minutes to finalize their meal for the audience.
Starting with Cauliflower & Sweet Potato Soup with Prosciutto Bits and Shaved Coconut.
The above Soup was thought to be a favorite overall by many around us.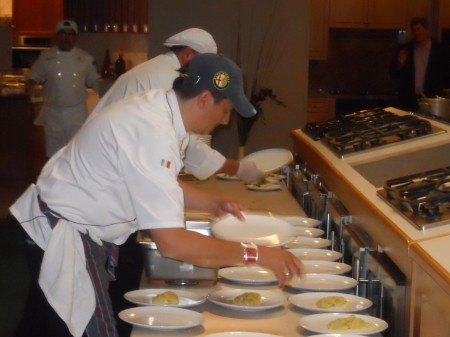 Also prepared by Chef Bellazzi was the Penne Pasta with Prosciutto, Arugula, Coconut Cream and Truffle Oil — It and the dish below it were those I liked best and tasted amazing.
Chicken Tenders with Italian Ham, cooked in Coconut Milk, topped with Cauliflower and served over Sweet Mashed Potatoes aromatized with Gorgonzola and Coconut Bits.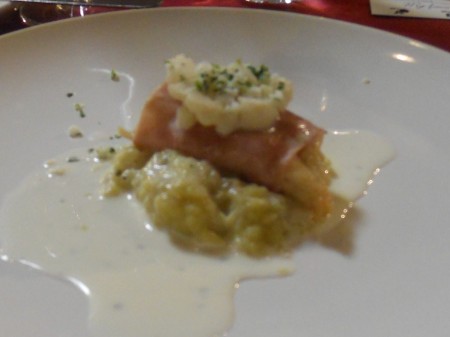 And a Sweet Potato & Coconut Creme Brulee (not pictured) was served for dessert.
Chef Bellazzi prepared a menu and since one wasn't provided by Chef Smith-Rosales, handwritten notes were made by our Chef Fight neighbors.  Both are shown above.  There's better description for the first meal.  I prefer a menu and don't want to take notes.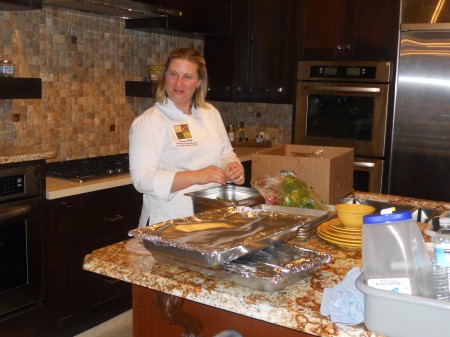 Chef Smith-Rosales in one of the display kitchens at the Standards of Excellence showroom.
Preparing and serving our second Soup, Cream of Cauliflower with Pancetta Crisps.
The second meal to be cooked in 30 minutes and compared to the first.
Continuing with a Spiced Chicken Thigh with Curry, Coconut Rice, Cilantro and Spinach.
All was finished with a Sweet Potato Custard with Coconut Caramel.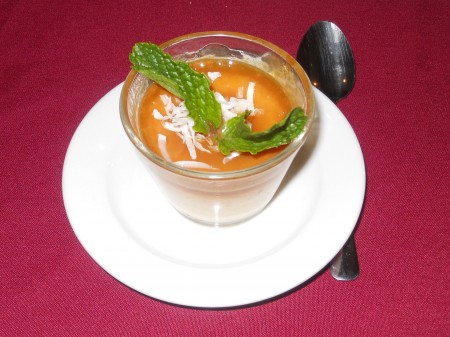 In between all was a blind Wine tasting — A taste of A, B and C to pick what we liked best.
As announced, Chef Bellazzi is the new champion and the guests won too, because everything was terrific — The food was notable, the service was diligent and swift, we ate from real plates with silverware rolled in cloth napkins, and all seemed well orchestrated.  Sunday Night Chef Fights value is better than initially thought.  We left full and satisfied.  Cheers!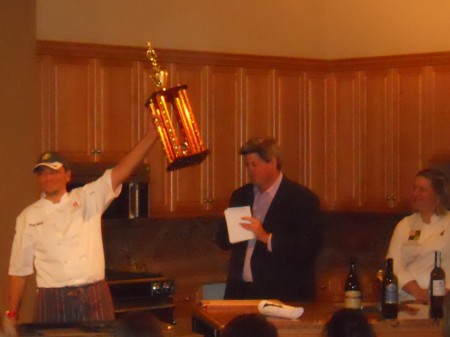 We had a good time tasting and participating in the voting process.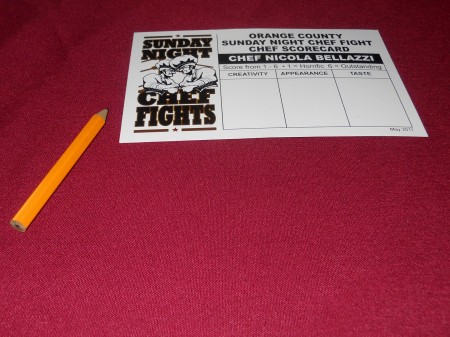 The next Sunday Night Chef Fights event is Sunday, August 7th, 2011.