Dinner & Dancing At Plums And Astoria Ballroom: Cha Cha To That.
I've had Plums catered, but had yet to dine in the Café until now — It always seems so busy.
This day we sat on the patio with a few Starters and Wine.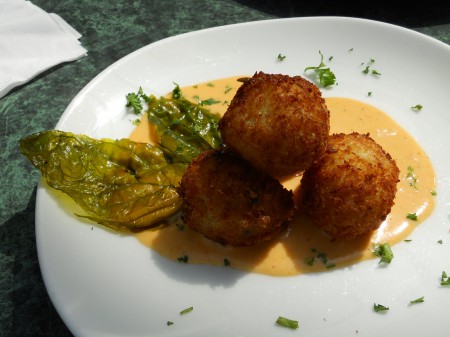 We shared the Wild Herb Risotto Cakes with Bistro Greens and Dilled Tomato Salsa.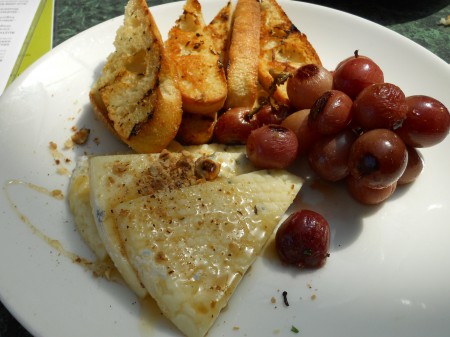 And the Dungeness Crab Puppies and Oregonzola and Roasted Muscat Grapes.
Two out of three ain't bad, as the song goes — The taste and temperature of the Roasted Muscat Grapes just didn't work for us, and the Cheese with too few Hazelnuts and very little Honey wasn't the greatest, but we always appreciate unique food combinations.
Next door to Plums Café is the Astoria Ballroom to dance, a runner up to eating, for me.
Plums Café and the Astoria Ballroom offer a generous Dinner & Dance SPECIAL each month.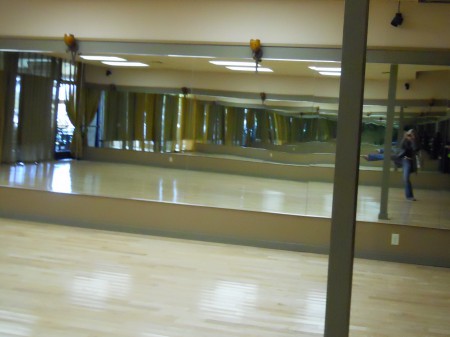 We stopped in for a visit and couldn't resist a couple dance moves — See me in the mirror?
Look for this coupon (or it's only $40 without it) and prepare to learn the Cha Cha, Tango, Waltz, Rumba, Foxtrot or Swing, after dinner next door at Plums Café.  Did you know they serve dinner now too?  They used to be open for breakfast and lunch (only), but today there is much going on in its obscure corner in Costa Mesa off 17th Street.