This Durty Nelly's is an Irish Pub in Costa Mesa, unrelated to the other Durty Nelly's at the top of the Google results — They're in Mallorca, The Village of Bunratty Co Clare, Nova Scotia and Perth City, far away from this one — I'll get around to those someday. 🙂
Until in Spain, Ireland, Canada and Australia respectively, we visited the Durty Nelly's in California — They advertise a lot in The Clipper Magazine and I drive by it often.  I had to get the place out of my system — It sounds fun and its ads promote Live Music, Karaoke, Happy Hour, and 2 for 1 Lunch and Dinner.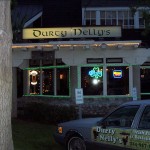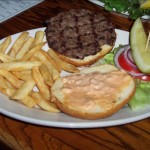 I like all that, but we only caught the Happy Hour, which has good prices.  It appears that Durty Nelly's is pretty much a bar with bar food, but in fairness they've got a large pub menu and I'm not aware of their specialties.  We shared the Fried Macaroni & Cheese Bites, a Hamburger & Fries and an Artichoke. 
The service was good, but overall I expected a little more from the place — I'm not sure why.  I was also hoping for a dart board, shuffle board, pool table, or games of some sort, but didn't see any.  The appeal for me next time would be the Live Music, or a stiff Cadillac while watching people sing Karaoke, HA.
See what many others have to say about Durty Nelly's on YELP:
http://www.yelp.com/biz/durty-nellys-costa-mesa