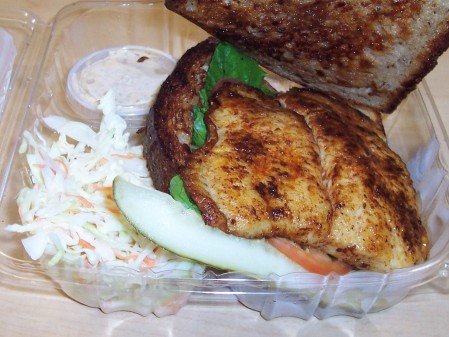 8 Steers Fish & Steakhouse Restaurant is located in Costa Mesa off busy Harbor Boulevard.  Since I'm within walking distance from it a couple days a week, I've been trying a few Sides and Sandwiches for lunch.  So far we've tried the Cajun Fish Sandwich, which comes with a choice of Coleslaw, Chips and something else (tba).  The Fish on this Sandwich is Basa Fish.  It's a type of Catfish I've never tried before.  It was a nice piece and the texture is similar, but I can tell I like Catfish better.  And I didn't care for the Bread it's served on — It got soggy, but the Remoulade Sauce made it all okay.
The Brussels Sprouts Side is a generous serving and pretty good.  It's different and seems to have Bacon and Horseradish or Wasabi in it.  And I like their Coleslaw — It's more Vinegary than Mayonnaisey.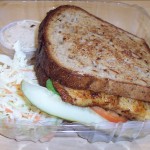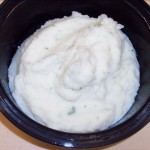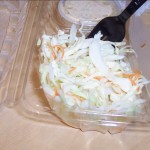 Pictured above middle is Ginger and Scallion Mashed Potatoes, another uniquely flavored Side — They're good too.  I really like 8 Steers' menu and look forward to trying and reporting about more.
8 Steers DIRECT: http://www.8steers.com/
What is Basa Fish?: http://en.wikipedia.org/wiki/Basa_fish
8 Steers' Kobe Sliders:
http://www.ineedtext.com/FoodBlog/2009/05/09/many-steer-by-8-steers-on-harbor-stop-in/
UPDATE 08/01/09:  It appears they are no longer open for Lunch, just Dinner and Happy Hour starting at 4PM.