For years my friend has raved about the Parmesan Crusted Chicken at the Yard House, which I finally tried (above).  It's served over Garlic Mashed Potatoes and a Sundried Tomato, Three Mushroom Sauce.  She's right, it's good, especially the Sauce, but I wanted a lot more of it.
Under the House Favorites portion of the menu, we also enjoyed the Penne with Chicken and the Summer Salad with Chicken from the lunch specials menu.  We always enjoy the food at the Yard House and have no complaints about this visit.  And we particularly like to go there during Happy Hour, when most appetizers are half price.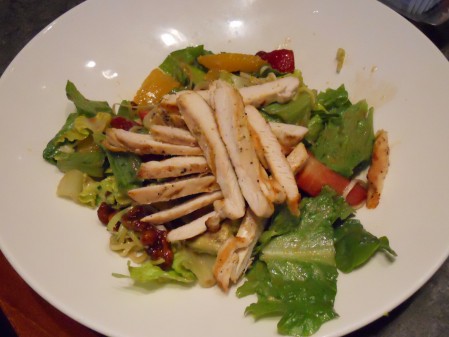 Past Happy Hours attended by Nibbles of Tidbits and more Yard House food photos are linked here.
Note:  We're experimenting with a new-ish camera, thus the photos above are a little bizarre looking and don't do the food justice.