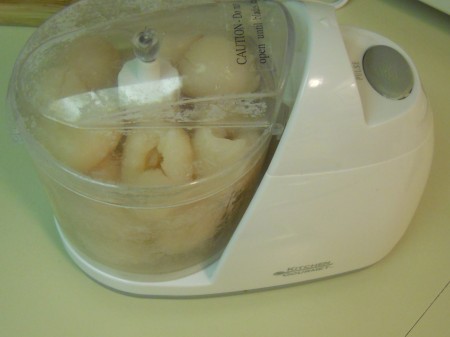 Rock Salt and Ice are no longer needed to make homemade Ice Cream.  I've been wanting a new Ice Cream Maker for years, but really didn't need one since my old fashioned one is still trucking along.  That's great, but the pictured Ice Cream Maker was on sale for a price I couldn't pass up.  I feel a little guilty about it, since it's nicer than the one I bought my Nieces last year for Christmas, though roughly the same price.  Hopefully they skip this post. 😉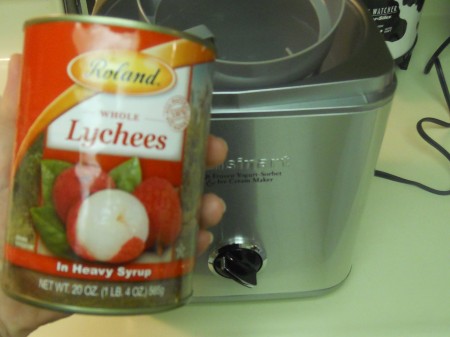 Homemade Lychee Ice Cream — I found a simple recipe online that was varied slightly to make the pictured Lychee Ice Cream.  It can (and should) be made in any Ice Cream Maker, because it's fabulous and couldn't be easier.  I lightened the recipe with Milk and less Cream.
Ingredients:  (1) 20 ounce Can of Lychees, 1 3/4 Cups of Whole Milk, 1/4 Cup of Heavy Cream, 1/4 Cup of Sugar and the Juice and Zest of (1) Lime — All with an Ice Cream Maker.
Directions:  Reserve the Lychee Syrup and puree the Lychee Fruit, then combine both with the remaining ingredients listed above.  Place ALL in an Ice Cream Maker and churn for 30 minutes.  That's how long it took in this Cuisinart.  Pictured is the first batch made in it — A success.  The consistency and flavor couldn't have been better.  The photos don't do it justice.