Our Guest Blogger, Bonnie recently visited and fell in love with the Savory Spice Shop located in Corona Del Mar Plaza.  She talked to the owners, took photographs and tried unique spices.  It's all seen and reported about by Bonnie as follows…
The New Savory Spice Shop in Corona Del Mar is Hot!
Make your Next Dish Savory! is the theme of the new Savory Spice Shop located at 928 Avocado Avenue, in Corona Del Mar (in the Bristol Farms Shopping Center). The owners are the husband and wife team of Randy Morton and Laura Shute. Here's what they offer:
                                400 herbs and spices ground fresh weekly
                                Over 140 unique hand-blended seasonings
                                Specially packaged gift sets, soups, sauces, dips and extracts
                                Available in amounts from ½ ounce to pounds
                                Everything is available for tasting
After a lot of taste testing, I finally settled on two different kinds of dip. The first is a Taco Seasoning which consists of: Masa Harina, salt, chilies, tomato powder, garlic, cumin, California paprika, onion, white sugar, Mexican oregano and allspice.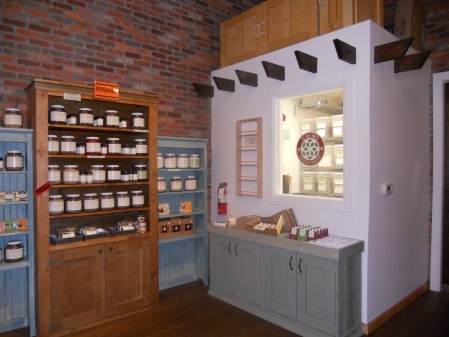 The other was recommended by Laura. It's their Gran Paradiso Cheese Sprinkle Dip which contains a truly interesting combination of spices: Green bells (I have no clue what they are!), Parmesan cheese, salt, toasted sesame seeds, shallots, green pepper, parsley, cilantro and chervil.
Both have now been paired with 8 ounces of sour cream and left to marry over night in the refrigerator. Tomorrow they will be brought to the First Annual Nibbles of Tidbits Super Bowl Party for taste testing. We may blog about it later as an update here.
Apart from being bowled over by all the choices, around half way though my tour, Laura pointed out that not all "spices" are (only) for eating. For example, Frankincense can be lit like incense and is meant to smell like the inside of a Church — A different way to enjoy a spice. On a personal note, I was excited to learn that they carry Spearmint Extract. I have been looking for it over a year!
I must also do a shout out on the interior design, which Randy and Laura did all by themselves. I love the wide plank hardwood flooring, tin ceiling and the brick focal wall. They combine to give the store a warm, homey effect.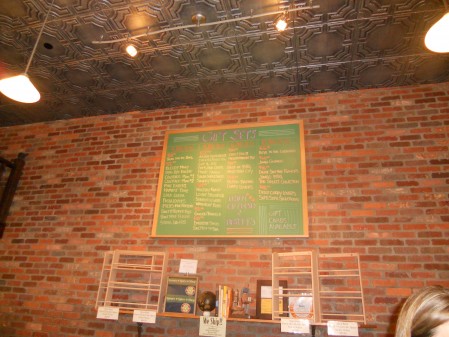 Most importantly, what I noticed most about the Savory Spice Store was the smell.  On the day I was there the front doors were wide open, so I caught a whiff of it before I even got inside.  It was such a wonderful delight — something you definitely need to experience.
Thanks for the report and photos Bonnie — I'm ready to hit the Savory Spice Shop.