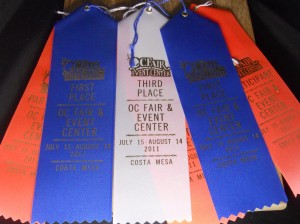 The 2011 OC Fair went out with a munch, a moo and an oink and set a record breaking attendance of 1,400,280 attendees. The OC Fair saw a 21 percent increase over last year's highest attendance record of 1,154,969, it surpassed on Day 20.
"My belief is the 2011 edition of the Fair establishes that the OC Fair has perfected the formula for staging a successful fair," said Dr. Steven Beazley, OC Fair & Event Center President & CEO. "That formula will now be applied to educate and entertain our community for years to come."
Fairgoers took the theme "Let's Eat!" seriously and consumed 10,000 Mexican Funnel Cakes, 3,000 chocolate-covered corn dogs, 125,000 balls of Deep-Fried Kool-Aid, 10,000 slices of deep-fried avocado, 2,000 deep-fried frog's legs and 75,000 colossal turkey legs.
The top five attended concerts in the Pacific Amphitheatre, in order of attendance, were Big Time Rush/Avery, Selena Gomez & The Scene, Weezer, Blake Shelton and Bob Dylan. Overall, there were nine sold-out concerts in the Fair's premiere entertainment venue.
In the Action Sports Arena, the top most thrilling events, in order of attendance, were: Orange Crush Demolition Derby, Motorhome Madness Demolition Derby and X-treme Freestyle Moto-X.
The top shows in The Hangar were Sweet & Tender Hooligans (tribute to Morrissey and The Smiths); Moonwalker (THE Reflection of Michael Jackson); Journey Unauthorized; Which One's Pink?; and Dead Man's Party (The Oingo Boingo Tribute).
More fun numbers for the 2011 OC Fair:
1,000 12-inch-high Jumbo Mexican Funnel Cakes were eaten and only four Fairgoers met the challenge to consume one by themself.
284,982 visitors bared the cold visit into the Ice Museum and more than 350 300-pound blocks of ice were used to create its contents.
More than 20,733 people were the ultimate Fairgoer as holders of their own Super Pass (season pass) compared to 11,100 in 2010.
32,439 people took advantage of the free Opening Hour on July 15 compared to 25,461 in 2011.
3,668 exhibitors submitted 12,697 entries which received 4,195 award ribbons and won more than $30,065 in cash awards.
A total of 540 livestock exhibitors presented 3,190 animals, received 2,170 ribbons and were rewarded $30,065 in cash awards.
For the four "We Care Wednesday" community donation drives, 81,267 generous Fairgoers donated 85,000 pounds of food, 62,736 children's books, 100,000 pieces of clothing and 100,000 new school supplies.
Born into the Centennial Farm family this year were two piglets and four goats.
The 2011 OC Fair, themed LET'S EAT!, was July 15 – August 14 and featured 23 days of food, rides, exhibits, animals, music, action sports and fun, as well as the popular Super Pass (season pass), Pacific Amphitheatre Summer Concert Series, The Hangar and Action Sports Arena. The Fair was open Wednesday-Sunday. The 2011 OC Fair was voted the Best Fair in Southern California by Los Angeles Times' readers and the 2010 OC Fair was ranked the eighth highest attended fair in the U.S. by Venues Today magazine.
Note:  The above is an official Press Release received from the OC Fair Communications Department.  And 'record wins' pertains to the two 1st Place Ribbons and one 3rd Place Ribbon I received this year entering the Culinary Arts Competition — See you in 2012.  Results and ribbons from previous years are pictured here.