Most often seen in trendy Hotels, I recall — And that still seems to be the "case" with respect to the soda cans above.  This time they're at the W in Hollywood at the I Can't Believe It's Not Butter! Red Carpet Event.  More about the elusive cans and event are here.  Moving on.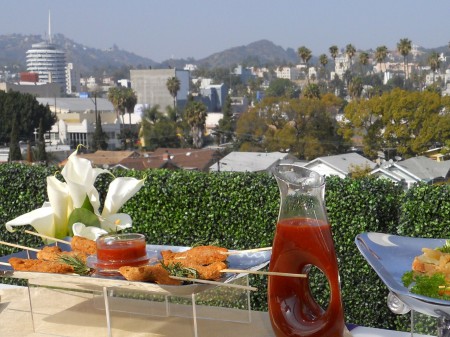 The purpose of this post is to announce the winner of the ICBINB! Giveaway.  We appreciate all entries.  And the WINNER is… Ms. A. Thompson from Signal Hill, California — We'll soon be in touch regarding your stylish prize.  Speaking of style, our Guest Blogger and Interior Designer, Bonnie writes about her point of view on the event.  Her report follows.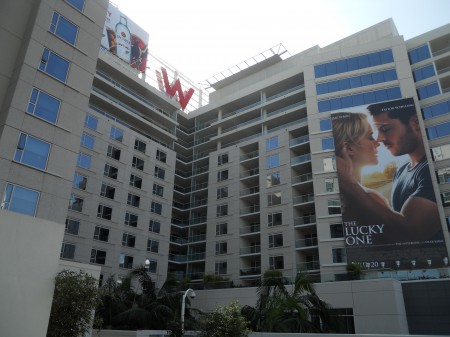 The Fabulous Features of the "Fantastic" Suite — They claim there are only two "Fantastic" suites at the W Hotel in Hollywood, which is appropriately situated at the iconic intersection of Hollywood Boulevard and Vine Streets.  This is where we spent the latter part of our Oscar Sunday afternoon. "Our" stunning suite had killer angles, floor to ceiling views and not one, but two glamorous rooftop decks to check out the Hollywood vibe going on below us.

 The Suite – and indeed, the entire hotel lobby – offers contemporary design along with a bold color scheme to create the ultimate Hollywood experience.  Every detail was impeccable, from the flowers to the design of the food servers themselves.  In my interior designers mind, the I Can't Believe It's Not Butter! food was impeccably served and we all had fun along with fabulous service.  Here's a BIG Shout Out to all the women involved in setting us up in the stunning Fantastic Suite at the W Hotel. They rocked it!
 Thanks Bonnie and I Can't Believe It's Not Butter!