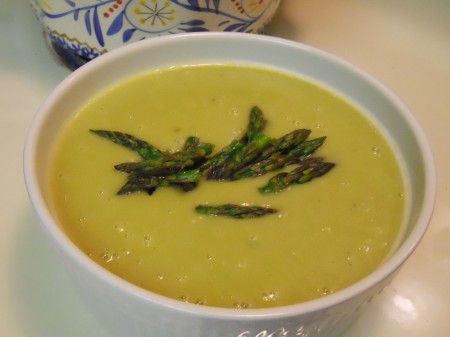 This Asparagus Potato Soup was inspired by the Carrot Soup we can't get enough of.  With no more Carrots on hand, Asparagus and Potato stepped in with Rosemary, and a shake up of the process — Instead of caramelizing the Onions in a pan, I roasted one with Bacon Grease in the oven.  Unlike the Carrot Soup, this one tastes better with a squeeze of Lemon at the end.
Asparagus Potato Soup — General instructions posted.  Please see here for related prep.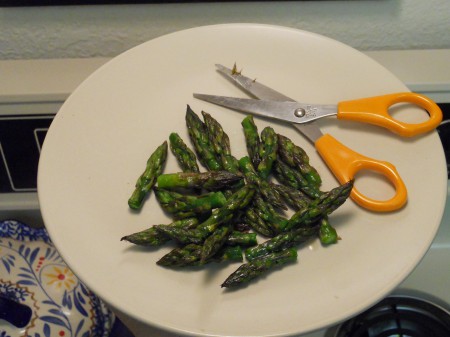 Roast Asparagus in the oven with Olive Oil and S & P, until they start to char.  Cut-off Asparagus tips and set aside.  In a Dutch oven, sauté sliced Potato with fresh Rosemary until softened and slightly browned, then add the Roasted Asparagus stalks and Chicken Stock.
I'm presently hooked on Knorr's Homestyle Stock Concentrate — Just add Water.
Stir, then squeeze Roasted Garlic from the Bulb directly into the mixture — You can see it (below).  Also add an Onion that's been baked in the oven, and Rosemary instead of Thyme.
A Baked Onion was substituted in for the Caramelized Onions in the Carrot Soup.
All is then puréed in a blender, drizzled with Lemon Juice and garnished with Asparagus tips.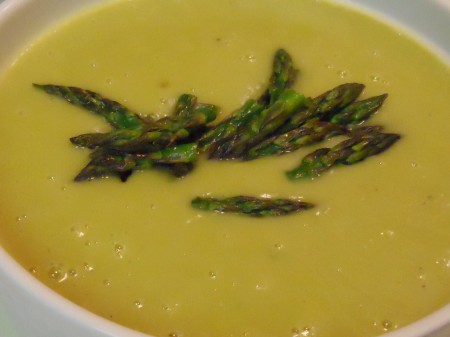 TIPS for all Soup variations — There should be just enough Chicken Stock added to cover all vegetables, which should be soft and cooled down (somewhat) before blending.  The variations seem endless and none need Cream to be creamy or to taste superb.  The Carrot Soup is preferred to this one.  Also, the Asparagus Potato Soup purée may need to be strained to remove some of the hard stalk inherent to Asparagus.  Or peel the lower ends before roasting.  I had to pull a few fibers from my mouth.  This Soup is good, not a superstar.