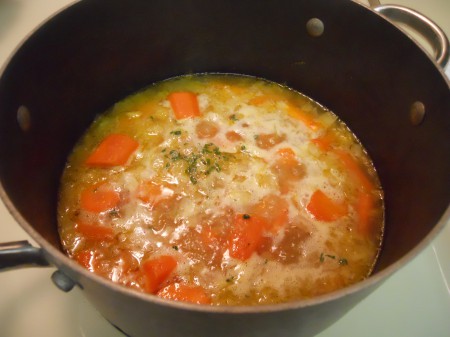 This Carrot Soup is the absolute best, because it's easy to make and tastes complex.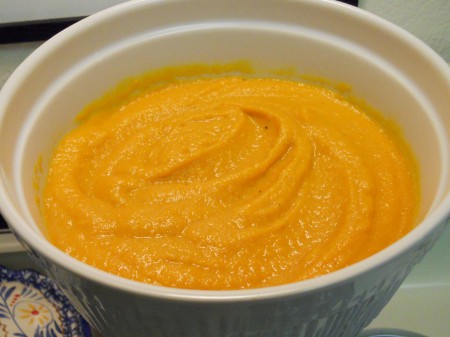 The 5 ingredients are Carrots (8 – 10), Roasted Garlic (1 Bulb), Caramelized Onions (1 Sweet Onion), Fresh Thyme Leaves (2 Sprigs) and Chicken Stock (3 – 3 1/2 Cups).  You basically combine all and cook until the Carrots are soft, then puree and eat — It's good for you too. 
More INFO, if needed…
• Roast a Garlic Bulb (in foil, with top cut off, drizzled with Olive Oil) in the oven at 400° for 45 minutes.  I generally have one or more on-hand, since I roast 'em often to add to many things.
• Caramelize chopped Onion in a pan with a little Olive Oil, then add the peeled, chopped Carrots towards the end and cook 5 – 10 minutes longer.  Add the Chicken Stock, Thyme Leaves and Roasted Garlic (squeezed from the bulb) to the sautéed Carrots and Onions.
• Cook until the Carrots are soft, then purée all in batches in a blender.  Transfer to a sauce pan to re-warm and add Salt and Pepper to taste, if needed.  Season the Onions and Carrots with S & P along the way, and with a good Chicken Stock it's generally perfect after blending.