We like having lunch at Cafe Nordstrom and have previously reported about many of them.  Here we report about a two new (to us) Salads at Cafe Nordstrom at the Brea Mall.  Above is the Nicoise Salad With Salmon — At first we didn't recognize it, since it truly is covered in herbs, as described "herbed roasted" Salmon, literally.  It looked a little weird at first, but was a good Salad overall.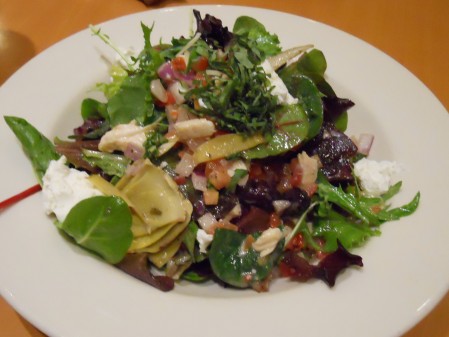 We also had the Margherita Pizza, as some in the group must always have it, and an Artichoke & Chicken Salad with Goat Cheese, Kalamata Olives, Basil and more.  Lunch is always good and peaceful at Cafe Nordstrom if you beat the crowd.  On our way out there was a line of (10) or more, thus we always make a note to arrive early at certain locations.
* Photos are a little off focus and will be replaced following our next visit.